Road Bike Tire Test:

Vittoria

Zaffiro Slick 25
Vittoria Zaffiro Slick 25
---
---
---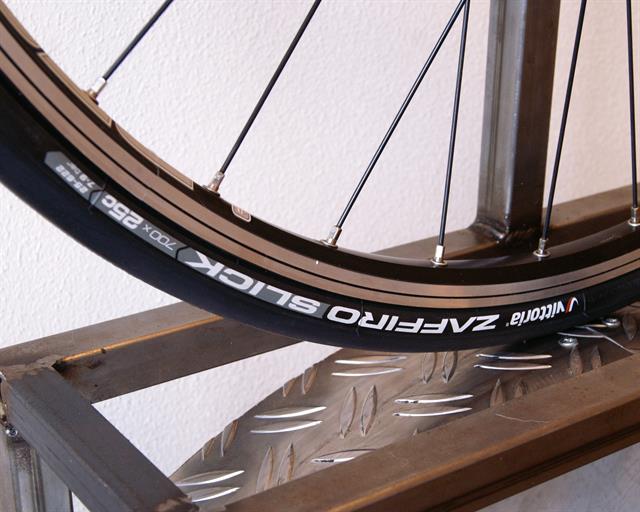 NOTE: We have a test available of a newer version of this tire: Vittoria Zaffiro Pro G+ 2.0 2020
The Vittoria Zaffiro Slick 700 x 25C is a very low-cost tire, you can get four Zaffiro's for the price of a single high-end tire. This is also Vittoria's cheapest road bike tire. To keep costs down, they use a wire bead, 26 TPI carcass, cheap rubber compound and no special puncture protection. This tire is described as an economical tire with very long service life. I've chosen to test this tire to find out if spending a lot of money on expensive tires is really necessary.
Ad Buy Cycling Equipment at Amazon.com - Tires, Parts, and Bikes
Vittoria makes a lot of different road bike tires, looking at their website, there are more than 30 different models. I've already tested the Open Corsa CX which is a high-end tire and a Rubino Pro which is a medium priced tire. I think together with the Zaffiro, these are the most popular tires from Vittoria. There is also a Zaffiro Pro, which has a folding bead, 60 TPI casing and is a massive 120 grams lighter than the non-pro tire.The price of the Zaffiro Pro is close to the price of the Rubino Pro, which again seems to be a step up.
The specified weight of the 25 mm Zaffiro is 370 grams, which is much heavier than most other all-round road bike tires that fit in the 225-250 grams range. It seems the wire beads add a lot of weight compared to a folding bead tire. For most people, this will already be a big turn off.
Manufacturer Specifications
Manufacturer Specifications
Brand
Vittoria
Model
Zaffiro Slick
Year
2015
Tire Type
Tubetype (clincher)
Supplied By
Bought in store
New or Used
New
Mileage
0 km
Price Range
Low
Buy At
Manufacturer part number
111.3ZS.23.25.111TG
TPI
26
Compound
Bead
Wire
ETRTO
25-622
Size Inch
28"
Specified Width (mm)
25
Specified Weight
370 grams
Max Air Pressure (psi)
130
Made In
Members Only
Available Sizes
23-622 (700x23C)
25-622 (700x25C)
28-622 (700x28C)
32-622 (700x32C)
Vittoria Zaffiro Slick 25 Test Results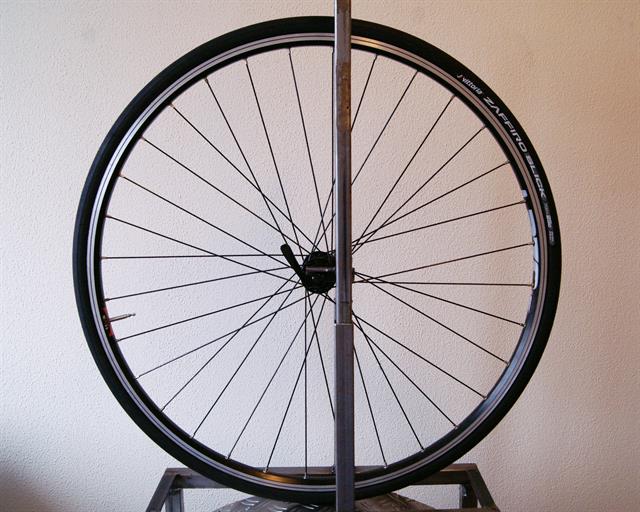 Size, Weight, and Thickness Measurements
Size, Weight and Thickness Measurements
Specified Weight
370 grams
Measured Weight
398 grams
System Adjusted Weight
(tire + inner tube (100 gr)
498 grams
Measured Width
26 mm (un-round)
Measured Height
24 mm (un-round)
Total Tire Thickness Center
3.6 mm
Total Tire Thickness Sidewall
Members Only
Unmounted Casing Width
No Data
Unmounted Tread Width
No Data
Tread Cover (Tread / Casing Ratio)
No Data
All size measurements are taken at an air pressure of 100 psi / 6.9 bars on a 17.8 mm inner width rim.
The measured weight of this Zaffiro is a massive 398 grams, 28 grams more than the advertised weight. The measured width and height on a 17C rim is 26 mm and 24 mm respectively. This seems to be the average size for a 25C tire.
Rolling Resistance Test Results
Rolling Resistance Test Results
Inner Tube
Conti Race28 (100gr butyl)
Measured Width
26 mm (un-round)
Rolling Resistance
Real tire width in mm:
22-24 = 132 psi/9.1 bar
25-27 = 120 psi/8.3 bar
28-29 = 108 psi/7.4 barUltra High Air Pressure
(120 psi / 8.3 bar)
15.7 Watts
CRR: 0.00471
Rolling Resistance
Real tire width in mm:
22-24 = 110 psi/7.6bar
25-27 = 100 psi/6.9 bar
28-29 = 90 psi/6.2 barExtra High Air Pressure
(100 psi / 6.9 bar)
17.1 Watts
CRR: 0.00513
Rolling Resistance
Real tire width in mm:
22-24 = 88 psi/6.1 bar
25-27 = 80 psi/5.5 bar
28-29 = 72 psi/5.0 barHigh Air Pressure
(80 psi / 5.5 bar)
Members Only
Rolling Resistance
Real tire width in mm:
22-24 = 66 psi/4.6 bar
25-27 = 60 psi/4.1 bar
28-29 = 54 psi/3.7 barMedium Air Pressure
(60 psi / 4.1 bar)
Members Only
The Road Bike section is a multi tire size section, air pressures have been adjusted to the measured casing width.

All numbers are for a single tire at a speed of 29 km/h / 18 mph and a load of 42.5 kg / 94 lbs.

Use the formula: RR (Watts) = CRR * speed (m/s) * load (N) to calculate rolling resistance at a given speed and load.
Rolling resistance at very high pressure seems to be reasonable for such a cheap tire. At an air pressure of 120 psi, it's just 2.3 watts slower when compared to the Rubino Pro. At lower pressures, it seems to really fall apart. The graph clearly shows a sharp rise in rolling resistance at pressures lower than 100 psi. At 80 psi, it requires 4.1 watts more energy per tire compared to the Rubino Pro, rising to 5.8 watts at 60 psi.
Puncture Resistance Test Results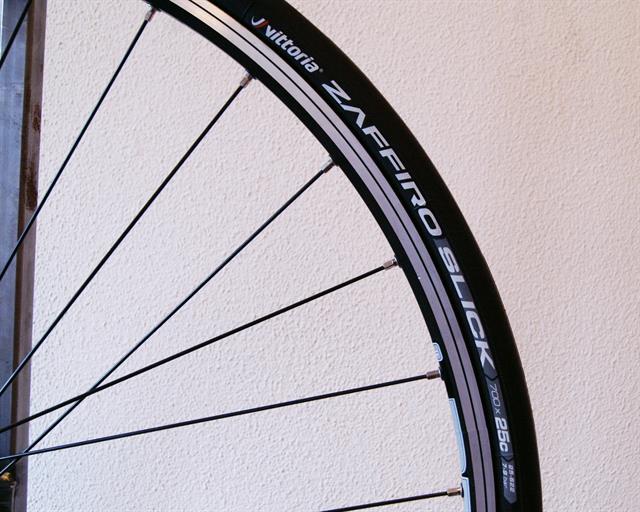 Puncture Resistance Test Results (higher is better)
Total Puncture Score Tread
58 Points
Total Puncture Score Sidewall
Members Only
Tread Puncture Force Sharp Needle
10 Points
Tread Puncture Force Blunt Needle
No Data
Tread Total Tire Thickness
3.6 mm
Sidewall Puncture Force Sharp Needle
Members Only
Sidewall Puncture Force Blunt Needle
No Data
Sidewall Total Tire Thickness
Members Only
Surprisingly, puncture resistance of the Zaffiro is very low for such a heavy tire. It gets a score of 10 in the puncture test versus a score of 12 for the Rubino Pro, which is a much lighter tire. High-tech puncture belts in more expensive tires clearly do work.
Static Grip Test Results
NOTE: Grip test data is only available on tires tested after November 2018. You can find more information about our grip test here: Introducing Grip Testing
Static Grip Test Results
Wet Grip Average
No Data
Wet Grip Center
No Data
Wet Grip Edge
No Data
Grip in points = coefficient of friction * 100
Conclusion
If you want a really cheap tire, this might be it. If you want much better performance, I think you can do a lot better by spending a bit more on a Vittoria Rubino Pro or a Continental Grand Prix. In my opinion, those tires hit the sweet spot in cost/performance. The Zaffiro even gets a lower score in the puncture test than light, low rolling resistance tires, which is something I did not expect from such a heavy tire.
I'll advise you to read my reviews of the Vittoria Rubino Pro and Continental Grand Prix and decide for yourself if it's worth it to spend a little more on road bike tires. I'm curious to hear your opinion so leave a comment with your own experience!
Ad Buy Cycling Equipment at Amazon.com - Tires, Parts, and Bikes
RATING: 2.0 / 5
TEST VERDICT: Not Recommended
Comments