MTB Tire Test:

Specialized

S-Works Ground Control
Specialized S-Works Ground Control
---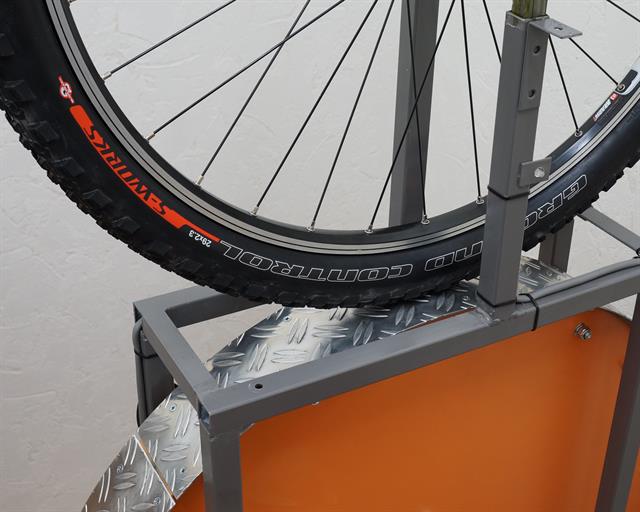 The Specialized S-Works Ground Control is the second Specialized MTB tire I've tested. I've already tested the S-Works Fast Trak and, although it's slower than comparable tires from Schwalbe and Conti, it performed quite well in the rolling resistance tests. I think it's interesting to take a look at another Specialized tire with some bigger knobs and see how it compares to the fast Schwalbe Nobby Nic SnakeSkin and big knobbed Conti Mountain King RaceSport.
I've tested the S-Works versions of the Specialized MTB tires as these are the top of the line products which use the best materials, have the lowest weight, and cost the most. The S-Works versions come with an extra-subtle and light-weight 120 TPI carcass, 2Bliss-Ready folding beads (tubeless ready), and a 60a compound. All of this should make this a good tire, but it's always interesting to get to know about the ins and outs of how this tire is built and performs.
Manufacturer Specifications
Manufacturer Specs
Brand
Specialized
Model
S-Works Ground Control
Year
2016
Supplied By
Bought in store
New or Used
New
Mileage
0 km
Price Range
High
Buy At
Manufacturer part number
0012-5007
TPI
120
Compound
60a
Bead
Folding
ETRTO
58-622
Size Inch
29"
Width Inch
2.30
Specified Weight
650 grams
Max Pressure
50
Made In
Taiwan
Available Sizes
29 x 2.30
29 x 2.10
27.5 x 2.30
27.5 x 2.10
26 x 2.30
26 x 2.10
Specialized S-Works Ground Control Test Results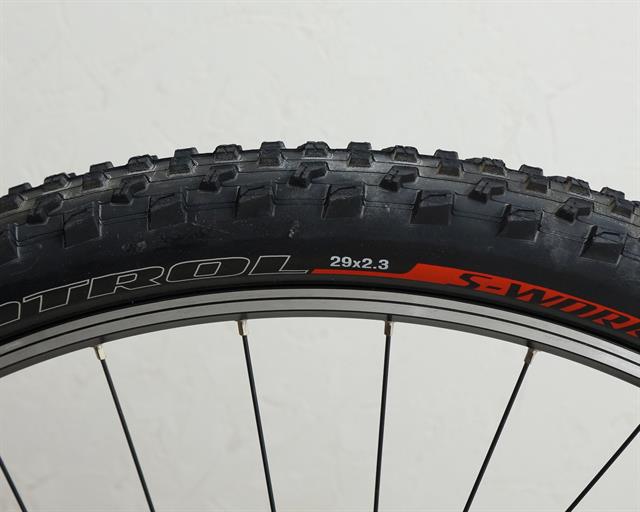 Size, Weight, and Thickness Measurements
advertisement
Size, Weight, and Thickness Measurements
Specified Weight
650 grams
Measured Weight
686 grams
Measured Width Carcass
53 mm
Measured Width Tread
56 mm
Measured Height
53 mm
Measured Knob Height Center
3.2 mm
Measured Knob Height Edge
4.5 mm
Measured Total Thickness Sidewall
0.50 mm
Measured Total Thickness Center (excluding knobs)
1.80 mm
All size measurements are taken at an air pressure of 35 psi / 2.4 bars on a 17.8 mm inner width rim.
While the specified weight of the 29 x 2.3 S-Works Ground Control is 650 grams, the measured weight comes in at 686 grams. The carcass measures 53 mm wide, height is 53 mm as well. The big edge knobs stick out a bit further making the total width of the tire 56 mm on a 17C rim at 35 psi / 2.4 bars.
With a height of 3.2 mm, the center knobs are a bit smaller than expected. Both the Schwalbe Nobby Nic (3.6 mm) (read review) and Continental Mountain King (4.1 mm) (read review) have bigger center knobs. The knobs at the edge of the tread come in at 4.5 mm which is a bit closer to the competition (4.7 mm for both). The sidewalls have a thickness of 0.5 mm, which is similar to other fast tires without reinforced sidewalls.
Rolling Resistance Test Results
Rolling Resistance Test Results
Inner Tube
Conti MTB 29 (225 gr butyl)
Rolling Resistance
55 PSI / 3.8 Bar
24.7Watts
CRR: 0.00740
Rolling Resistance
45 PSI / 3.1 Bar
25.5 Watts
CRR: 0.00764
Rolling Resistance
35 PSI / 2.4 Bar
27.2 Watts
CRR: 0.00815
Rolling Resistance
25 PSI / 1.7 Bar
31.3 Watts
CRR: 0.00938
All numbers are for a single tire at a speed of 29 km/h / 18 mph and a load of 42.5 kg / 94 lbs.

Use the formula: RR (Watts) = CRR * speed (m/s) * load (N) to calculate rolling resistance at a given speed and load.
Compared to the Fast Trak (read review) which came in at 28.0 watts, rolling resistance at 25 psi / 1.7 bars has gone up to 31.3 watts. At higher air pressures, the difference gets smaller. Compared to the Schwalbe Nobby Nic SnakeSkin, which has a comparable knob height, rolling resistance is a good bit higher as the Nobby Nic came in at 25.0 watts at 25 psi / 1.7 bars. The Ground Control does outperform the Conti Mountain King by 0.2 watts, but that tire has much bigger knobs.
Just like the Fast Trak, it looks like the Ground Control can't outperform the competition and lags the main competitor by 5-6 watts per tire. It does outperform the Conti Mountain King, but that tire has an extra mm of center knob height. It looks like Specialized has some work to do to improve rolling resistance of the MTB tires by 10-20% if they want to compete with the fastest tires.
Puncture Resistance Test Results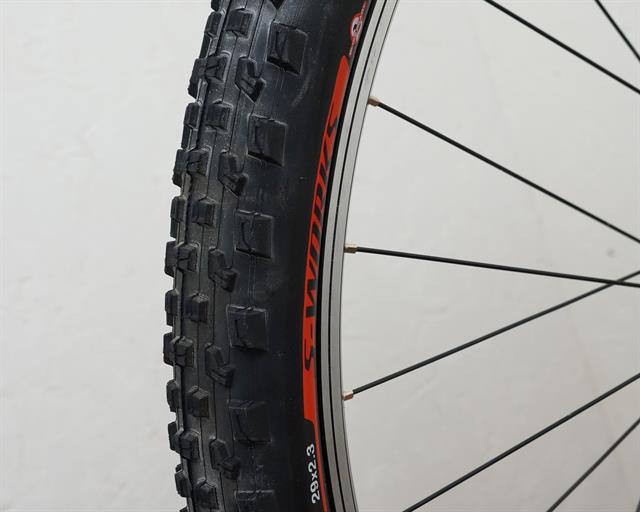 Puncture Resistance Test Result (higher is better)
Puncture Resistance Tread
6 Points
Puncture Resistance Sidewall
5 Points
As the carcasses of both the Fast Trak and Ground Control seem identical, both these tires score 6 points in the tread puncture resistance test and 5 points in the sidewall puncture test. The Nobby Nic SnakeSkin scored 7 points in both those tests which shows the strength of the reinforced sidewalls. The Nobby Nic LiteSkin should have comparable sidewall strength as the Ground Control, but offer an even lower rolling resistance.
Conclusion
Specialized S-Works Ground Control
Performance compared to all other MTB tires
(100% is fastest - lightest - highest - strongest)
The Specialized S-Works Ground Control gets outperformed on all tests (except weight) by the Schwalbe Nobby Nic SnakeSkin (read review) which is a tire in the same class and with comparable knob height. I feel this test once again confirms Specialized lags behind Schwalbe and Continental by close to 20% on rolling resistance in the MTB category but does provide better performance than Maxxis, Kenda, and Vittoria.
I rate the Ground Control 3 out of 5 because it does outperform tires from other brands and performance is decent. It might also have other qualities that make up the higher RR. I do feel the Schwalbe Nobby Nic will provide the best performance if you're looking for a tire in the 3 - 4 mm knob height category. The Nobby Nic LiteSkin should provide an even lower RR than the SnakeSkin I've tested.
RATING: 3 / 5
TEST VERDICT: Recommended
Comments