Tire Test -
Schwalbe Nobby Nic TL-E PaceStar
Published: 2015-10-23 | Jarno Bierman
---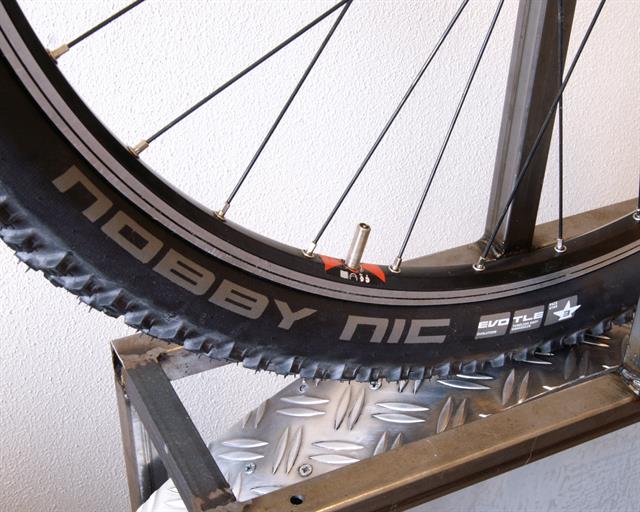 The Schwalbe Nobby Nic is another classic tire from Schwalbe that has been around for a long time. I'm testing the 29 x 2.25 TL-Easy SnakeSkin with the PaceStar compound. The PaceStar compound is Schwalbe's fastest off-road rubber. A softer TrailStar compound (grippier) is available as well. The SnakeSkin part means it has reinforced sidewalls that also have the added benefit of easier sealing when using these tires in a tubeless set up.
Buy Schwalbe Nobby Nic TL-E PaceStar at Amazon.com
I'm testing the SnakeSkin version of the Nobby Nic because from 2016 onwards, Schwalbe will discontinue the LiteSkin versions of the Nobby Nic. The 26 and 27.5 versions are still available at the moment, but I expect these to be phased out as well in favor of the TL-Easy SnakeSkin versions. According to Schwalbe, most people looking for a tire like the Nobby Nic don't require it to be light but prefer a stronger version with better sealing capabilities.
Schwalbe also claims the stronger SnakeSkin sidewalls result in just a slightly higher rolling resistance. After testing a lot of tires, I can confirm this to be true. At very high air pressures, there doesn't seem to be a difference between LiteSkin and SnakeSkin, at lower air pressures (20-25 psi), the LiteSkin tires have a ~1 watt lower rolling resistance. The higher weight of the SnakeSkin tires is their biggest drawback.
Manufacturer Specs
Brand
Schwalbe
Model
Nobby Nic TL-E PaceStar
Year
2015
Supplied By
Bought in store
New or Used
New
Mileage
0 km
Price Range
High
Price
Amazon.com
Part Number
11600668
TPI
67
Compound
PaceStar
Bead
Folding
ETRTO
57-622
Size Inch
29"
Width Inch
2.25
Specified Weight
710 grams
Max Pressure
54
Made In
Indonesia
Available Sizes
29 x 2.60
29 x 2.35
29 x 2.25
27.5 x 3.00
27.5 x 2.80
27.5 x 2.60
27.5 x 2.35
27.5 x 2.25
26 x 2.35
26 x 2.25
26 x 2.10
Test Results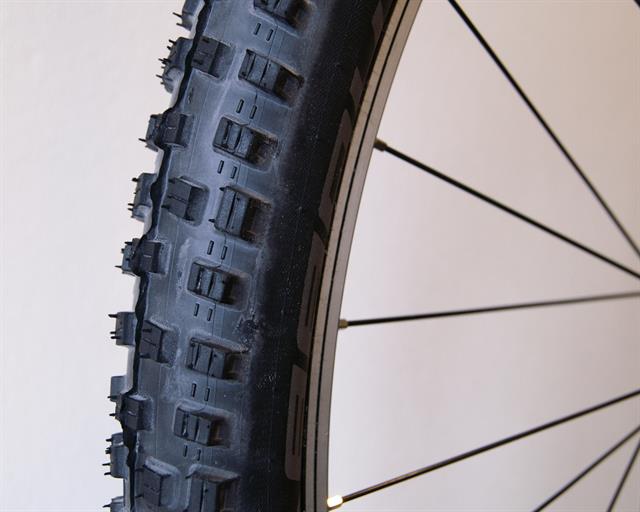 Size and Weight Measurements
Size and Weight Measurements (Bike Wheel: 622-17C, Pressure: 35 psi / 2.4 bar)
Specified Weight
710 grams
Measured Weight
731 grams
Measured Width Carcass
54 mm
Measured Width Tread
55 mm
Measured Height
53 mm
Measured Knob Height Center
3.6 mm
Measured Knob Height Edge
4.7 mm
Measured Total Thickness Sidewall
0.85 mm
Measured Total Thickness Center (excluding knobs)
1.80 mm
Schwalbe claims the Nobby Nic 29 x 2.25 SnakeSkin to have a weight of 710 grams; my sample comes in at 731 grams which is a good bit more. The volume of the tire is good with a casing width of 54 mm and a maximum height of 53 mm on a 17C rim. Maximum width of the tire is 55 mm measured at the side knobs.
Knob height of the center knobs is 3.6 mm. The knobs at the edge of the tire have a height of 4.7 mm. When compared to the Racing Ralph (read review) or Rocket Ron (read review), the knobs are much bigger and spaced further apart. The Continental Mountain King (read review) does have slightly higher center knobs and an even rougher tread profile.
Rolling Resistance Test Results
Rolling Resistance Test Results (Speed: 29 kmh / 18 mph / 8 m/s, Load: 42.5 kg / 417 N)
Inner Tube
Conti MTB 29 (225 gr butyl)
Rolling Resistance 55 psi / 3,8 Bar
20.3Watts
CRR: 0.00609
Rolling Resistance 45 psi / 3,1 Bar
21.0 Watts
CRR: 0.00629
Rolling Resistance 35 psi / 2,4 Bar
22.4 Watts
CRR: 0.00671
Rolling Resistance 25 psi / 1,7 Bar
25.0 Watts
CRR: 0.00749
Use the formula: RR (watts) = CRR * speed (m/s) * load (N) to calculate rolling resistance at a given speed and load
Rolling resistance of the Nobby Nic is much lower than I expected. At the very high air pressure of 55 psi, rolling resistance is 20.3 watts. At the low air pressure of 25 psi, rolling resistance is 25.0 watts. On average, rolling resistance of the Nobby Nic with its much bigger knobs and higher weight is only 2 - 2.5 watts higher when compared to the Schwalbe Thunder Burt (read review), Racing Ralph or Rocket Ron.
Compared to the Continental Mountain King that has been tested recently as well, rolling resistance of the Nobby Nic is much lower. What surprises me is that Schwalbe can keep rolling resistance at a low level when increasing knob height and knob spacing. Rolling resistance of the Continental mountain bike tires, on the other hand, seems to increase a lot when knob height and spacing of the knobs is increased. The Conti Mountain King has almost twice the rolling resistance of the ultra-fast Conti Speed King (read review).
Puncture Resistance Test Results
Puncture Resistance Test Result (higher is better)
Puncture Resistance Tread
7
Puncture Resistance Sidewall
7
Both tread and sidewall puncture resistance of the Nobby Nic SnakeSkin comes in at 7 points. The Schwalbe LiteSkin and SnakeSkin tires both seem to score 7 - 8 points in the tread test. In the sidewall test, the SnakeSkin tires seem to score 7 - 8 points while the LiteSkin tires score 5 - 6 points.
Conclusion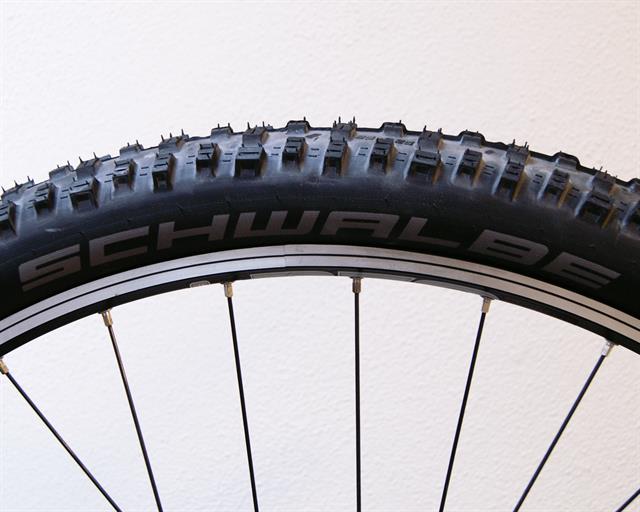 I never expected rolling resistance of the Schwalbe Nobby Nic to be this low. Schwalbe can keep rolling resistance low while at the same time increasing the spacing and size of the knobs. Yes, this is a test on a flat drum under lab conditions. It's hard to estimate rolling resistance on softer or rougher terrain. I'm sure the difference between small and large knobs will be bigger in real-life MTB conditions. What this test proves is that rolling resistance is lower than other tires with a comparable profile and knob height.
The Nobby Nic is probably the best tire in its class. Although the Continental Mountain King (read review) has a slightly rougher profile and bigger knobs, rolling resistance of the Nobby Nic is much lower. I don't think you can go wrong with the Nobby Nic front or rear.
Buy Schwalbe Nobby Nic TL-E PaceStar at Amazon.com
RATING: 5 / 5
VERDICT: Highly Recommended
Comments