Road Bike Tire Test:

Wolfpack

Road Race
---
---
---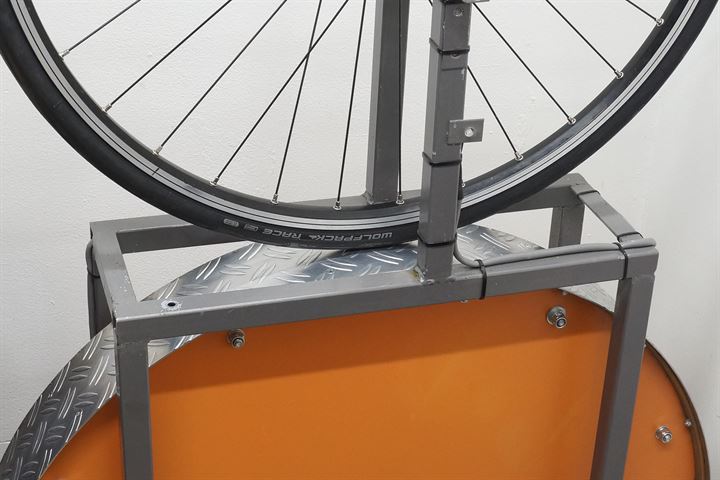 The Wolfpack Road Race is another winner of the November tire voting round; thank you members for submitting your votes. Before we had the tire voting system, the Wolfpack tires already were one of the most requested tires. It's no surprise to us the Wolfpack Road Race was one of the first winners since launching the Pro membership and voting system.
Ad Buy Wolfpack Road Race at Amazon.com
Wolfpack is a small German tire company founded by Wolfgang Arenz who worked for Continental, Specialized, and Schwalbe and is known for being one of the driving forces in the development of award-winning bicycle tires. Wolfgang left Schwalbe in 2017 and went on to create his own brand that only offers high-end bicycle tires as he felt there was a lot to gain in this department.
The Wolfpack Road Race is an allround road bike tire with a similar construction and price of many of the most popular tubetype (clincher) road bike tires like the Continental Grand Prix 5000 (read our review), Michelin Power Competition (read our review) and Road (read our review), and Schwalbe Pro One (clincher) (read our review). The Road Race features a high TPI nylon casing and the Wolfpack ToGuard compound that according to Wolfgang rolls as fast as other competitors but offers more grip resulting in a safer ride and better control.
The Road Race is available in both the 24-622 and 26-622 sizes. This is a test of the 26-622 version as its size is very similar to 25-622 rated tires from other brands.
Manufacturer Specifications
Manufacturer Specifications
Brand
Wolfpack
Model
Road Race
Year
2020
Tire Type
Tubetype (clincher)
Supplied By
Bought in store
New or Used
New
Mileage
0 km
Price Range
High
Buy At

Ad

Amazon.com
Manufacturer part number
HPF120-WP-002BX
EAN
4260616540055
TPI
-
Compound
ToGuard
Bead
Folding
ETRTO
26-622
Size Inch
28"
Specified Width (mm)
26
Specified Weight
225 grams
Max Air Pressure (psi)
120
Made In
Members Only
Available Sizes
24-622 (700x24c)
26-622 (700x26c)
Wolfpack Road Race Test Results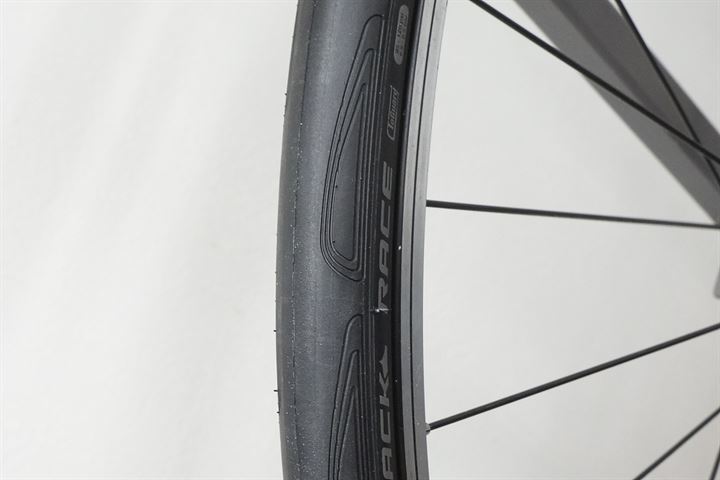 Size, Weight, and Thickness Measurements
advertisement
Size, Weight and Thickness Measurements
Specified Weight
225 grams
Measured Weight
247 grams
System Adjusted Weight
(tire + inner tube (100 gr)
347 grams
Measured Width
27 mm (un-round)
Measured Height
24 mm (un-round)
Total Tire Thickness Center
2.9 mm
Total Tire Thickness Sidewall
Members Only
Unmounted Casing Width
66 mm
Unmounted Tread Width
Members Only
All size measurements are taken at an air pressure of 100 psi / 6.9 bars on a 17.8 mm inner width rim.
Rolling Resistance Test Results
Rolling Resistance Test Results
Inner Tube
Conti Race28 (100gr butyl)
Rolling Resistance
140 PSI / 9.7 Bar
Not Tested
Rolling Resistance
120 PSI / 8.3 Bar
12.1 Watts
CRR: 0.00363
Rolling Resistance
100 PSI / 6.9 Bar
13.3 Watts
CRR: 0.00399
Rolling Resistance
80 PSI / 5.5 Bar
Members Only
Rolling Resistance
60 PSI / 4.1 Bar
Members Only
All numbers are for a single tire at a speed of 29 km/h / 18 mph and a load of 42.5 kg / 94 lbs.

Use the formula: RR (Watts) = CRR * speed (m/s) * load (N) to calculate rolling resistance at a given speed and load.
Puncture Resistance Test Results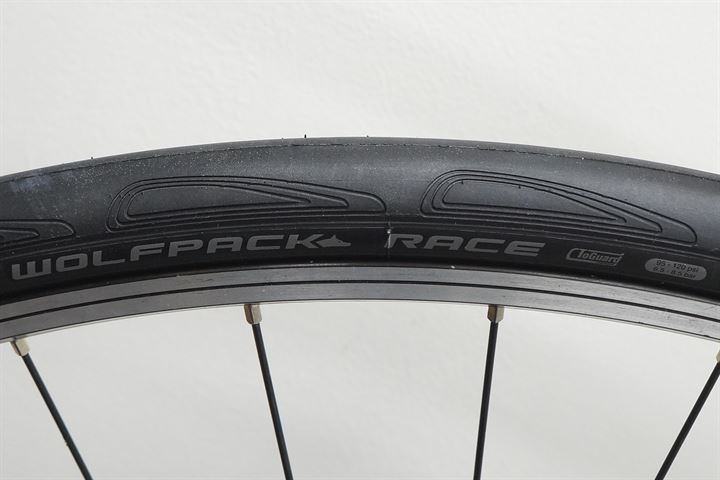 Puncture Resistance Test Results (higher is better)
Total Puncture Score Tread
48 Points
Total Puncture Score Sidewall
Members Only
Tread Puncture Force Sharp Needle
10 Points
Tread Puncture Force Blunt Needle
Members Only
Tread Total Tire Thickness
2.9 mm
Sidewall Puncture Force Sharp Needle
Members Only
Sidewall Puncture Force Blunt Needle
Members Only
Sidewall Total Tire Thickness
Members Only
Static Grip Test Results
NOTE: Grip test data is only available on tires tested after November 2018. You can find more information about our grip test here: Introducing Grip Testing
Static Grip Test Results
Wet Grip Average
67 Points
Wet Grip Center
Members Only
Wet Grip Edge
Members Only
Grip in points = coefficient of friction * 100
Conclusion
The Wolfpack Road Race looks like a good all-round road bike tire that doesn't do much wrong. Our tests don't show any real shortcomings although rolling resistance at lower air pressures absolutely leaves something to be desired. Tread width is better than nearly all other road bike tires so we take Wolfgang's word that this tire isn't made to provide the absolute lowest rolling resistance but grip and safety had a high priority as well.
This tire definitely is worth a try if you're looking for an all-round road bike tire and low rolling resistance isn't your main criteria when buying tires.
Ad Buy Wolfpack Road Race at Amazon.com
RATING: 4.0 / 5
TEST VERDICT: Recommended
Comments