MTB Tire Test:

Schwalbe

Thunder Burt TL-E PaceStar
Schwalbe Thunder Burt TL-E PaceStar
---
---
---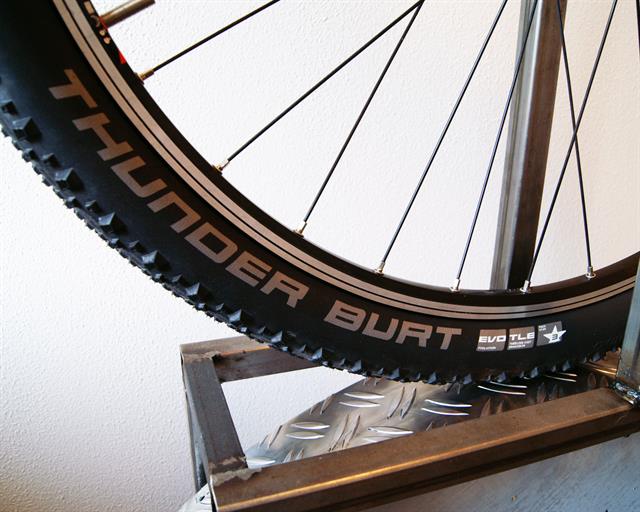 NOTE: We have a test available of a newer version of this tire: Schwalbe Thunder Burt Super Ground Addix Speed 2021
This Thunder Burt Evolution SnakeSkin Tubeless Easy 29 x 2.25 is a 2015 model year tire. From the beginning of November 2014, the Thunder Burt 2.25 will be available in a SnakeSkin version. The slightly smaller 2.1 Thunder Burt is still available in LiteSkin, SnakeSkin, and RaceGuard versions. This tire was sent to me by Schwalbe Holland for test purposes; I want to thank them for this! It also shows they have a lot of confidence in their products.
Ad Buy Schwalbe Thunder Burt TL-E PaceStar at Amazon.com
Starting with the 2015 model year, Schwalbe seems to have gone for a different naming scheme. The Tubeless Ready tires aren't available anymore and appear to be replaced by LiteSkin tires. The SnakeSkin versions now have a new "Tubeless Easy" label. It seems like Schwalbe is recommending the SnakeSkin tires if you want to go tubeless because of much easier set up. You should still be able to run the LiteSkins tubeless but set up isn't as easy.
The SnakeSkin part means this Thunder Burt has reinforced sidewalls and a 67 TPI carcass instead of the 127 TPI carcass of the LiteSkin tires. If you ride near sharp rocks a lot or get a lot of sidewall cuts, this might be something to go for. I'm not sure what the differences are regarding rolling resistance. My best guess is that the rolling resistance of SnakeSkin tires to be a bit higher than the lighter and more subtle LiteSkin tires.
Manufacturer Specifications
Manufacturer Specs
Brand
Schwalbe
Model
Thunder Burt TL-E PaceStar
Year
2015
Supplied By
Supplied by Schwalbe
New or Used
New
Mileage
0 km
Price Range
High
Buy At

Ad

Amazon.com
Manufacturer part number
11600657
TPI
67
Compound
PaceStar
Bead
Folding
ETRTO
57-622
Size Inch
29"
Width Inch
2.25
Specified Weight
575 grams
Max Air Pressure (psi)
54
Made In
Members Only
Available Sizes
29x2.25
29x2.10
27.5x2.25
27.5x2.10
Schwalbe Thunder Burt TL-E PaceStar Test Results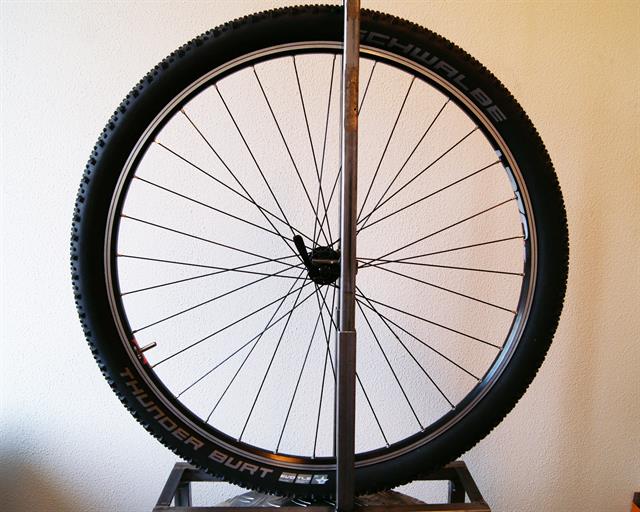 Size, Weight, and Thickness Measurements
Size, Weight, and Thickness Measurements
Specified Weight
575 grams
Measured Weight
573 grams
Measured Width Carcass
54 mm (un-round)
Measured Width Tread
53 mm
Measured Height
51 mm (un-round)
Measured Knob Height Center
1.4 mm
Measured Knob Height Edge
3.8 mm
Measured Total Thickness Center (excluding knobs)
1.4 mm
Measured Total Thickness Sidewall
Members Only
All size measurements are taken at an air pressure of 35 psi / 2.4 bars on a 17.8 mm inner width rim.
The Thunder Burt sent to me by Schwalbe Holland comes in with a weight of 573 grams, which is very close to it's specified weight of 575 grams. Of course, knob height is very low with center knobs at 1.4 mm and side knobs at 3.8 mm. Volume is reasonable with a width of 54 mm and a height of 51 mm.
Rolling Resistance Test Results
Rolling Resistance Test Results
Inner Tube
None (40 ml sealant)

(current protocol)
Conti MTB 29 (225 gr butyl)

(test protocol)
Rolling Resistance
55 PSI / 3.8 Bar
Members Only
Members Only
Rolling Resistance
45 PSI / 3.1 Bar
Members Only
Members Only
Rolling Resistance
35 PSI / 2.4 Bar
16.5 Watts
CRR: 0.00495
20.0 Watts
CRR: 0.00600
Rolling Resistance
25 PSI / 1.7 Bar
17.8 Watts
CRR: 0.00534
22.3 Watts
CRR: 0.00668
All numbers are for a single tire at a speed of 29 km/h / 18 mph and a load of 42.5 kg / 94 lbs.

Use the formula: RR (Watts) = CRR * speed (m/s) * load (N) to calculate rolling resistance at a given speed and load.
Rolling Resistance is excellent for a tire with reinforced sidewalls, it beats the Continental Race King by 0.1 watts at a pressure of 25 psi / 1.7 bars and comes close at higher pressures. The Thunder Burt looks like an excellent compromise between the Racing Ralph and Furious Fred.
Puncture Resistance Test Results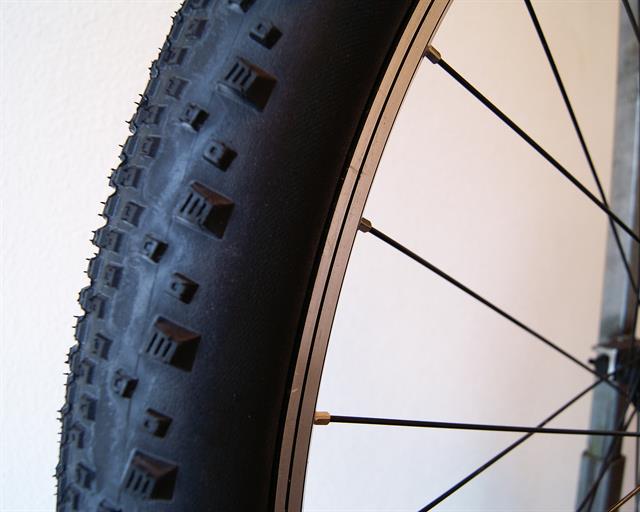 Puncture Resistance Test Results (higher is better)
Total Puncture Score Tread
29 Points
Total Puncture Score Sidewall
Members Only
Tread Puncture Force Sharp Needle
8 Points
Tread Puncture Force Blunt Needle
No Data
Tread Total Tire Thickness
1.4 mm
Sidewall Puncture Force Sharp Needle
Members Only
Sidewall Puncture Force Blunt Needle
No Data
Sidewall Total Tire Thickness
Members Only
Puncture Resistance is slightly better when compared to a Race King of Racing Ralph Tubeless-Ready. At this moment, I'm only able to test the puncture resistance of the tread area. I do am working on a sidewall puncture resistance test as well, which should show a bigger difference between the SnakeSkin and LiteSkin versions.
Conclusion
Schwalbe Thunder Burt TL-E PaceStar
Performance compared to all other MTB tires
(100% is fastest - lightest - highest - strongest)
Depending on air pressure, the rolling resistance of the Thunder Burt SnakeSkin is slightly lower or slightly higher when compared to the Continental Race King RaceSport that has been in the top position for a long time. Choosing between the Continental Race King and Schwalbe Thunder Burt SnakeSkin seems to be a trade-off between more or fewer knobs, stronger or weaker sidewalls and ease of tubeless set up.
If you're shopping for a mountain bike tire with very low rolling resistance, easy tubeless set up, reinforced sidewalls and you don't need a lot of big knobs, the Thunder Burt SnakeSkin is a great choice. The LiteSkin version of the Thunder Burt should be even faster.
Ad Buy Schwalbe Thunder Burt TL-E PaceStar at Amazon.com
RATING: 5.0 / 5
TEST VERDICT: Highly Recommended
Comments