Road Bike Tire Test:

Schwalbe

One Tubeless 25
---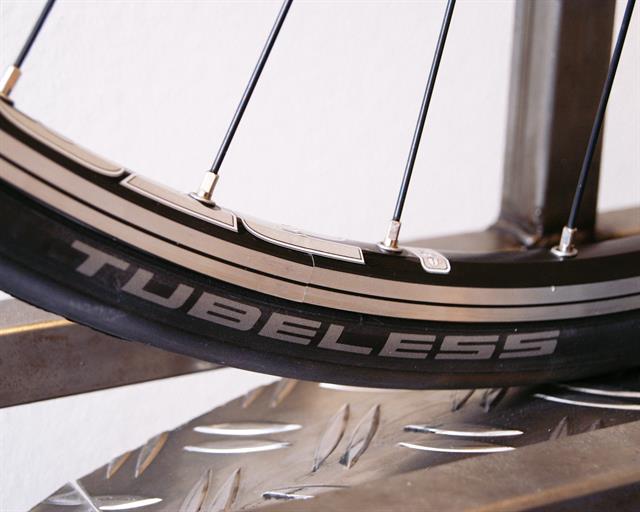 NOTE: We have a test available of a newer version of this tire: Schwalbe Pro One Tubeless 2016
The Schwalbe One Tubeless is the most requested tire to be reviewed by readers of Bicycle Rolling Resistance. A lot of people are wondering if the differences in rolling resistance of tubeless road bike tires are as big as with mountain bike tires. Schwalbe claims the tubeless One has a rolling resistance of 18.5 watts vs 22 watts for the clincher version. In our review of the clincher One, it came in at 12.3 watts. If we trust Schwalbe, the Tubeless One should come in at 10.3 watts in our test.
Lower rolling resistance isn't the only benefit tubeless road bike tires provide. You can run lower air pressure because of the inability to get pinch flats. When adding sealant to the tire, overall puncture resistance will increase greatly as well. Chances of getting a blow out because of heating up the rim when braking a lot going downhill also decreases with tubeless tires.
Unlike tubeless tires for mountain bikes, road bike tubeless tires do not require tubeless sealant to hold air. If you want to convert to tubeless, you should invest in tubeless ready wheels for safety, you don't want a front tire blowout at high speeds. For this test, I've used the standard wheel I use for all tests. To seal the rim, I used a tubeless rim strip with a weight of 65 grams. This should not influence the test results because the test is performed at a static speed. As recommended by Schwalbe, I used lubricant to lubricate the bead for easy mounting and to make sure the bead ends up in the right place. I did not use sealant for this test.
Manufacturer Specifications
Manufacturer Specifications
Brand
Schwalbe
Model
One Tubeless
Year
2014
Tire Type
Tubeless
Supplied By
Bought in store
New or Used
New
Mileage
0 km
Price Range
High
Buy At
Manufacturer part number
11700024
TPI
127
Compound
OneStar
Bead
Folding
ETRTO
25-622
Size Inch
28"
Specified Width (mm)
25
Specified Weight
340 grams
Max Air Pressure (psi)
110
Made In
Members Only
Available Sizes
23-622 (700x23C)
25-622 (700x25C)
28-622 (700x28C)
Schwalbe One Tubeless 25 Test Results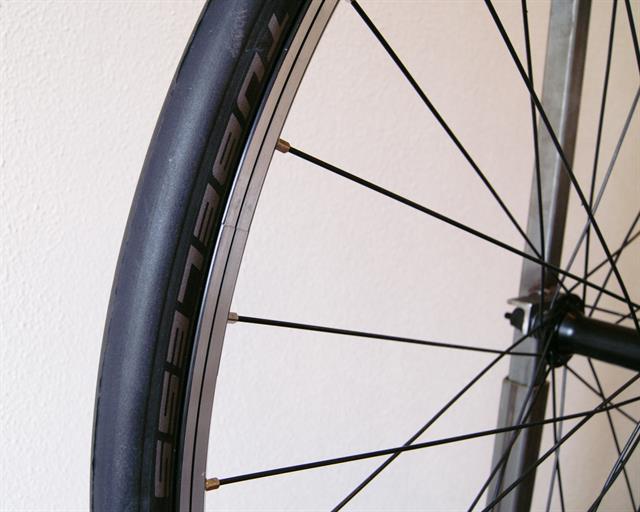 Size, Weight, and Thickness Measurements
Size, Weight and Thickness Measurements
Specified Weight
340 grams
Measured Weight
344 grams
System Adjusted Weight
(tire + valve + rim seal)
364 grams
Measured Width
26 mm (un-round)
Measured Height
24 mm (un-round)
Total Tire Thickness Center
2.9 mm
Total Tire Thickness Sidewall
Members Only
Unmounted Casing Width
No Data
Unmounted Tread Width
No Data
Tread Cover (Tread / Casing Ratio)
No Data
All size measurements are taken at an air pressure of 100 psi / 6.9 bars on a 17.8 mm inner width rim.
Claimed weight of the 25 mm One Tubeless is 340 grams, my sample came in at 344 grams. The One clincher came in at 243 grams, adding up the 100 grams butyl inner tube makes the total wheel weight equal for both tires. The One Tubeless is a little bit smaller with a width of 26 mm and a height of 24 mm on a 17C rim.
Rolling Resistance Test Results
Rolling Resistance Test Results
Inner Tube
None (20 ml sealant)
Measured Width
26 mm (un-round)
Rolling Resistance
Real tire width in mm:
22-24 = 132 psi/9.1 bar
25-27 = 120 psi/8.3 bar
28-29 = 108 psi/7.4 barUltra High Air Pressure
(120 psi / 8.3 bar)
11.8 Watts
CRR: 0.00354
Rolling Resistance
Real tire width in mm:
22-24 = 110 psi/7.6bar
25-27 = 100 psi/6.9 bar
28-29 = 90 psi/6.2 barExtra High Air Pressure
(100 psi / 6.9 bar)
12.5 Watts
CRR: 0.00375
Rolling Resistance
Real tire width in mm:
22-24 = 88 psi/6.1 bar
25-27 = 80 psi/5.5 bar
28-29 = 72 psi/5.0 barHigh Air Pressure
(80 psi / 5.5 bar)
Members Only
Rolling Resistance
Real tire width in mm:
22-24 = 66 psi/4.6 bar
25-27 = 60 psi/4.1 bar
28-29 = 54 psi/3.7 barMedium Air Pressure
(60 psi / 4.1 bar)
Members Only
The Road Bike section is a multi tire size section, air pressures have been adjusted to the measured casing width.

All numbers are for a single tire at a speed of 29 km/h / 18 mph and a load of 42.5 kg / 94 lbs.

Use the formula: RR (Watts) = CRR * speed (m/s) * load (N) to calculate rolling resistance at a given speed and load.
Maximum air pressure, as indicated on the sidewall is 110 psi. I overinflated the tire to 120 psi / 8.3 bar to be able to test the tire at standard test pressures.
At an air pressure of 120 psi, rolling resistance came in at 11.8 watts, which is the best result yet when excluding the tires tested with a latex tube. At an air pressure of 100psi, performance is still very strong with a rolling resistance of 12.5 watts. Strange enough, when lowering air pressure even more, it can't keep up this strong performance. It ends up losing to the Continental Grand Prix 4000S II at 80 and 60 psi by 0.1 and 0.8 watts respectively.
Puncture Resistance Test Results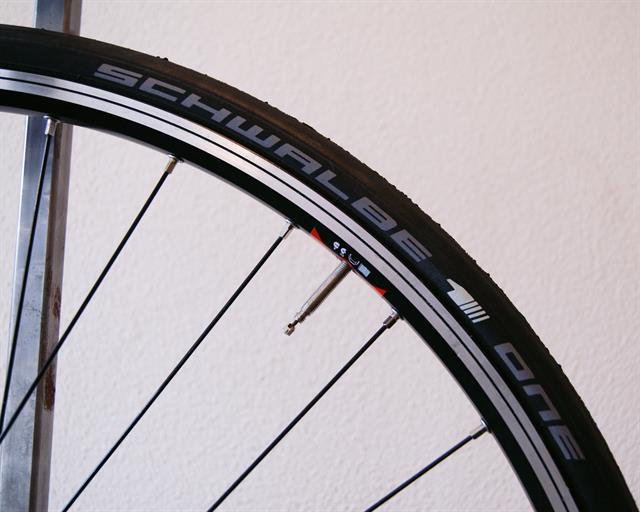 Puncture Resistance Test Results (higher is better)
Total Puncture Score Tread
58 Points
Total Puncture Score Sidewall
Members Only
Tread Puncture Force Sharp Needle
12 Points
Tread Puncture Force Blunt Needle
No Data
Tread Total Tire Thickness
2.9 mm
Sidewall Puncture Force Sharp Needle
Members Only
Sidewall Puncture Force Blunt Needle
No Data
Sidewall Total Tire Thickness
Members Only
Puncture resistance is 12, which is the same as the Schwalbe One V-Guard (normal clincher). This seems to indicate that tread thickness and puncture resistance materials in both the Tubeless and V-Guard versions of the One are exactly the same.
Static Grip Test Results
NOTE: Grip test data is only available on tires tested after November 2018. You can find more information about our grip test here: Introducing Grip Testing
Static Grip Test Results
Wet Grip Average
No Data
Wet Grip Center
No Data
Wet Grip Edge
No Data
Grip in points = coefficient of friction * 100
Road bike grip test rim width = 19.0 mm
Conclusion
Rolling resistance is good but not as good as claimed by Schwalbe. I sort of expected this because of the weight of 344 grams. What essentially happened is that they moved the butyl layer onto the tire itself instead of using the old style inner tube. Still, results are good especially at higher pressures. While rolling resistance isn't really lower with the tubeless tire, you do get all of the other advantages: like better puncture protection (with sealant), better pinch flat protection and less chance of a blow out when heating up the rim.
I'm sure a revolution is coming in road bike tire tech. At this point in time, rolling resistance isn't really lower but in a couple of years, I'm sure the manufacturers will be able to make improvements. Also don't forget all the other important benefits of tubeless tires. If you're investing in new wheels today, definitely check if they are tubeless ready.
RATING: 4.0 / 5
TEST VERDICT: Recommended
Comments