Tire Test -
Continental Ultra Sport II
Published: 2015-08-21 | Jarno Bierman
---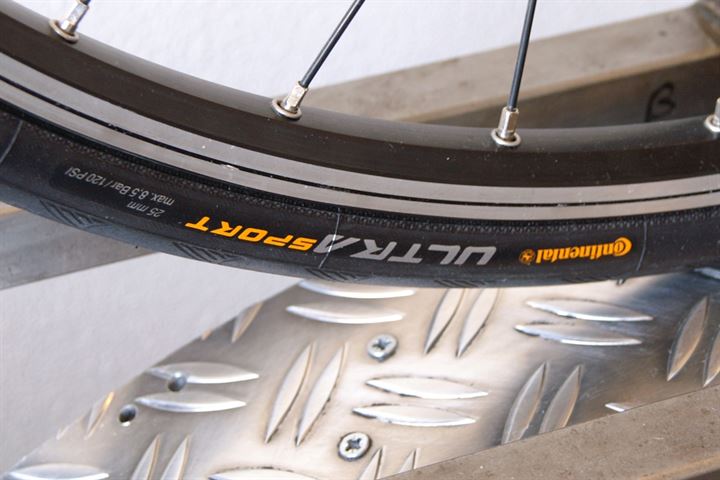 Today I'm testing Continentals cheapest road bike tire: the Ultra Sport II. The Ultra Sport is quite a popular tire in the lowest price class. Not only because of its low price but also because it's available in lots of different colors and sizes. I'm testing the Ultra Sport II 700 x 25C folding version. A wire bead version is available as well which costs even less. The Ultra Sport has a 3/180 carcass, Conti's PureGrip compound, but no hi-tech puncture resistance layer.
Buy Continental Ultra Sport II at Amazon.com
It seems like Continental saved some money by skipping the extra layer of puncture resistance material that most other all-round tires have. No puncture resistance layer helps achieve a lower rolling resistance at the cost of lower puncture resistance. The other low-end tires I have tested up to now are the Vittoria Zaffiro (review), which has a decent rolling resistance but low puncture resistance. And the Schwalbe Lugano (review), which has a decent puncture resistance, but a very high rolling resistance.
The trade-off between rolling resistance and puncture resistance will always exist, a stronger tire will have a higher rolling resistance. Although the use of a better design and better performing materials helps, tire cost will go up as well. Let's see how Continentals lowest priced tire performs in our rolling resistance and puncture resistance tests
Manufacturer Specifications
Brand
Continental
Model
Ultra Sport II
Year
2015
Tire Type
Tubetype (clincher)
Supplied By
Bought in store
New or Used
New
Mileage
0 km
Price Range
Low
Price

Amazon.com

Part number
0150011
TPI
3/180
Compound
PureGrip
Bead
Folding
ETRTO
25-622
Size Inch
28"
Width
25
Specified Weight
260 grams
Max Pressure
120
Made In
China
Available Sizes
32-630 (27x1 1/4)
28-630 (27x1 1/8)
23-622 (700x23C)
25-622 (700x25C)
28-622 (700x28C)
32-622 (700x32C)
Test Results
Size and Weight Measurements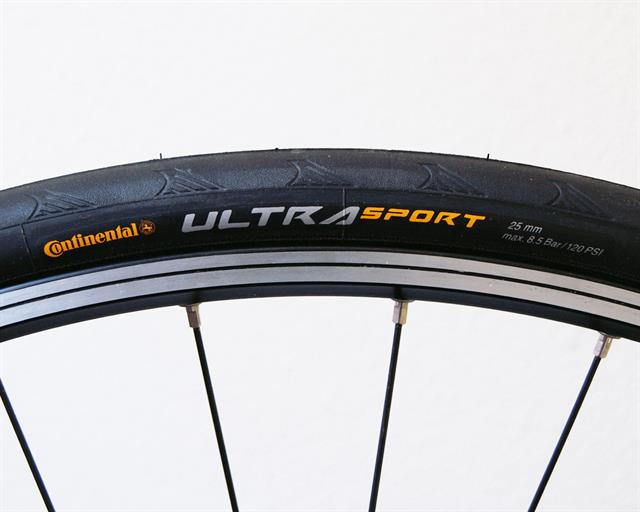 Size and Weight Measurements (Bike Wheel: 622x17C, Pressure: 100 psi / 6.9 bar)
Specified Weight
260 grams
Measured Weight
267 grams
Measured Width
26 mm
Measured Height
24 mm
Total Tire Thickness Center
3 mm
Total Tire Thickness Sidewall
0.7 mm
Specified weight of the folding Ultra Sport 700 x 25C is 260 grams. My sample comes in at 267 grams, which is slightly over the specified weight. The measured width and height on a 17C wheel is 26 mm and 24 mm respectively. These are both average values for a 25C road bike tires.
Rolling Resistance Test Results
Rolling Resistance Test Results (Speed: 29 kmh / 18 mph / 8 m/s, Load: 42.5 kg / 417 N)
Inner Tube
Conti Race28 (100gr butyl)
Rolling Resistance 140 psi / 9.7 Bar
Not Tested
CRR: Not Tested
Rolling Resistance 120 psi / 8.3 Bar
14.3 Watts
CRR: 0.00429
Rolling Resistance 100 PSI / 6.9 Bar
14.8 Watts
CRR: 0.00444
Rolling Resistance 80 PSI / 5.5 Bar
16.4 Watts
CRR: 0.00492
Rolling Resistance 60 PSI / 4.1 Bar
18.9 Watts
CRR: 0.00567
Use the formula: RR (watts) = CRR * speed (m/s) * load (N) to calculate rolling resistance at a given speed and load
When taking its low price into consideration, rolling resistance is good. The Ultra Sport is able to outperform the Vittoria Zaffiro and comes very close to the slightly more expensive Continental Grand Prix (review). At an air pressure of 120 psi, rolling resistance of the Ultra Sport is only 0.3 watts higher when compared to the Grand Prix. At the lower air pressure of 80 psi, the advantage of the Grand Prix increases to 0.5 watts.
The Vittoria Zaffiro had a decent rolling resistance at a very high air pressure. At lower air pressures, rolling resistance of the Zaffiro skyrocketed. The Ultra Sport, on the other hand, has a much better rolling resistance curve. Resulting in a decent rolling resistance even at the very low air pressure of 60 psi.
Puncture Resistance Test Results
Puncture Resistance Test Results (higher is better)
Puncture Resistance Tread
10
Puncture Resistance Sidewall
4
As expected -because the puncture resistance layer has been omitted, tread puncture resistance is low. With a score of 10 points, it scores just as low as the Vittoria Zaffiro.
Sidewall puncture resistance is 4 points; this is an average score as most other road bike tires without reinforced sidewalls score 4 - 5 points on this test.
Conclusion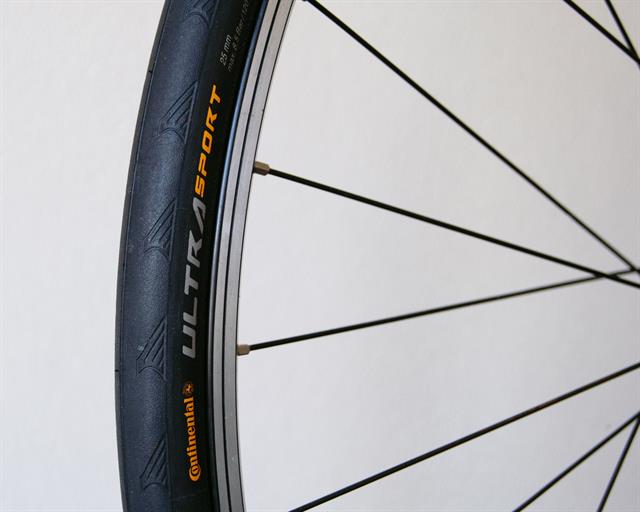 If you're looking for a cheap tire with decent rolling resistance, the Continental Ultra Sport II is the way to go. The Ultra Sport can hold its own in the rolling resistance test. Even at lower air pressures, it's able to score very close to more expensive tires. The trade-off is that puncture resistance is below average because an extra layer of puncture resistance material has been omitted.
If you want cheap tires and don't care about puncture resistance, the Ultra Sports are perfect. If you're willing to spend slightly more, the Continental Grand Prix (review) or Vittoria Rubino Pro (review) are still my price/performance recommendations. Those tires have a slightly lower weight, lower rolling resistance, and a much better puncture resistance at a slightly higher price.
Buy Continental Ultra Sport II at Amazon.com
RATING: 3 / 5
TEST VERDICT: Recommended
Comments
Did you like this article?
Please consider to share this article with your friends.
Or Like/Follow us on Facebook or Twitter