Road Bike Tire Test:

Vittoria

Rubino Pro Speed
---
---
Vittoria Rubino Pro Speed
---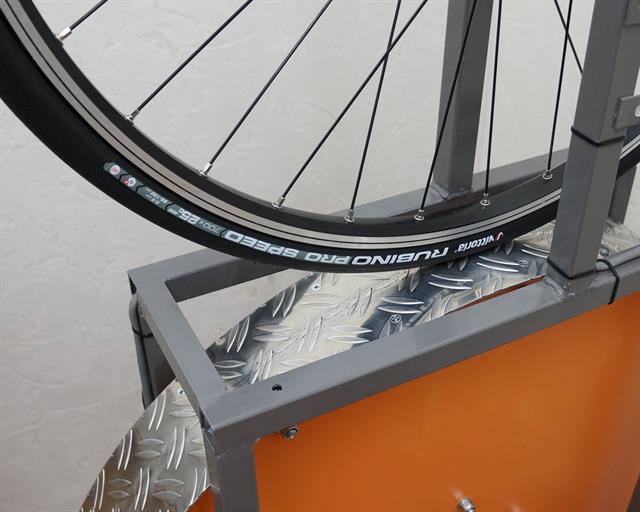 The Vittoria Rubino Pro Speed G+ is the fastest and lightest member of the newly introduced Rubino G+ tires. With a specified weight of just 180 and 190 grams for the 23 and 25 mm versions, this is one of the lightest tires on the market. Even the much more expensive Corsa and Corsa Speed have a higher weight. According to Vittoria, the Rubino Pro Speed should also provide a lower rolling resistance than the new Corsa G+.
Ad Buy Vittoria Rubino Pro Speed at Amazon.com
To achieve this low weight and low rolling resistance, the Rubino Pro Speed comes with an 180 TPI nylon carcass without any additional puncture protection. A thin layer of triple compound rubber provides a high suppleness and low rolling resistance at the cost of shorter tire life.
When I first heard about the Rubino Pro Speed, it seemed like a strange tire. The Rubino tires are mostly known as mid-range tires that provide decent rolling resistance and puncture protection. Most people that are willing to sacrifice puncture resistance and tire life for a lower rolling resistance seem to buy the most expensive, no compromise tires. The Rubino Speed looks like a no compromise tire as well, but is it fast enough to justify decreased puncture resistance and tire life?
Manufacturer Specifications
Manufacturer Specifications
Brand
Vittoria
Model
Rubino Pro Speed
Year
2016
Tire Type
Tubetype (clincher)
Supplied By
Bought in store
New or Used
New
Mileage
0 km
Price Range
High
Buy At

Ad

Amazon.com
Manufacturer part number
111.3RS.22.25.111BX
EAN
8022530001960
TPI
180
Compound
3C G+
Bead
Folding
ETRTO
25-622
Size Inch
28"
Specified Width (mm)
25
Specified Weight
190 grams
Max Air Pressure (psi)
130
Made In
Members Only
Available Sizes
23-622 (700x23C)
25-622 (700x25C)
Vittoria Rubino Pro Speed Test Results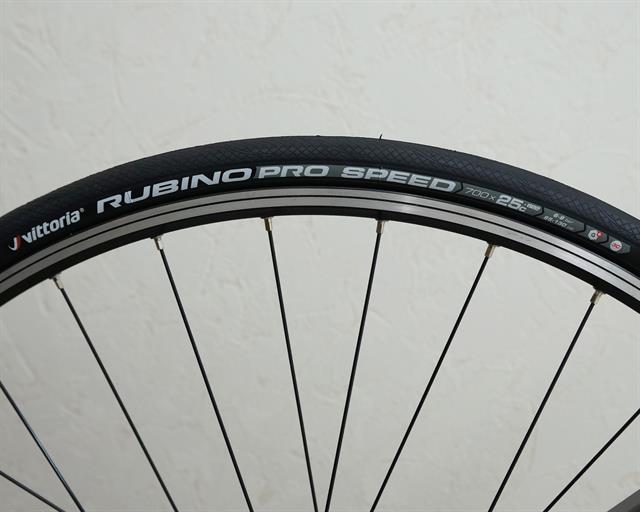 Size, Weight, and Thickness Measurements
advertisement
Size, Weight and Thickness Measurements
Specified Weight
190 grams
Measured Weight
206 grams
System Adjusted Weight
(tire + inner tube (100 gr)
306 grams
Measured Width
27 mm (un-round)
Measured Height
24 mm (un-round)
Total Tire Thickness Center
2.3 mm
Total Tire Thickness Sidewall
Members Only
Unmounted Casing Width
63 mm
Unmounted Tread Width
Members Only
All size measurements are taken at an air pressure of 100 psi / 6.9 bars on a 17.8 mm inner width rim.
With a measured weight of 206 grams, the 25-622 Rubino Pro Speed weighs 16 grams more than specified. The measured maximum width of the tire comes in at 27 mm; height is 24 mm. This tire is a bit bigger than specified, most other tires seem to come in close to 26-27 mm.
The total thickness of the tire at the center of the tread is only 2.3 mm which is much thinner than most other all-round tires. When we compare this to the Rubino Pro G+ (read review), the Pro Speed is 0.7 mm thinner. Because the Speed doesn't have an anti-puncture layer, my estimate is that there is 0.3-0.5 mm less rubber to wear down. The sidewalls are a bit thinner as well at 0.5 mm Vs 0.55 mm for the Rubino Pro.
Rolling Resistance Test Results
Rolling Resistance Test Results
Inner Tube
Conti Race28 (100gr butyl)
Rolling Resistance
140 PSI / 9.7 Bar
Not Tested
Rolling Resistance
120 PSI / 8.3 Bar
11.9 Watts
CRR: 0.00357
Rolling Resistance
100 PSI / 6.9 Bar
12.6 Watts
CRR: 0.00378
Rolling Resistance
80 PSI / 5.5 Bar
Members Only
Rolling Resistance
60 PSI / 4.1 Bar
Members Only
All numbers are for a single tire at a speed of 29 km/h / 18 mph and a load of 42.5 kg / 94 lbs.

Use the formula: RR (Watts) = CRR * speed (m/s) * load (N) to calculate rolling resistance at a given speed and load.
Rolling resistance is very low at high air pressures. With a rolling resistance of just 11.9 watts at 120 psi, the Rubino Pro Speed outperforms popular tires like the Conti GP4000S II (read review), Schwalbe One (read review), and Vittoria Corsa G+ (read review). This strong performance shows us what can be accomplished by using a thinner casing, no anti-puncture layer, and a thinner layer of rubber. I'm not sure if Vittoria uses a different kind of 3C compound mixture on the Speed G+ Vs the regular Rubino Pro G+.
At lower air pressures, the performance of the Rubino Pro Speed isn't as impressive as at the higher end of the pressure range. At air pressures of less than 80-90 psi, the performance of the Speed falls apart, and it gets overtaken by the previously mentioned competitors. When using this tire, it's important to keep the pressure up. Maximum air pressure is 130 psi, which is slightly higher than most other 25 mm tires.
Puncture Resistance Test Results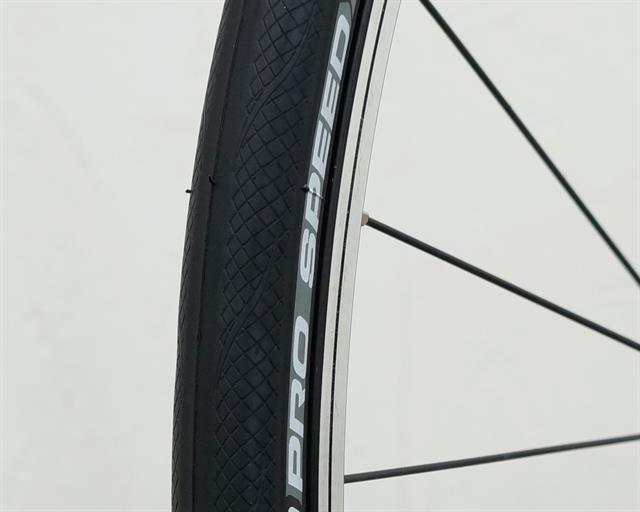 Puncture Resistance Test Results (higher is better)
Total Puncture Score Tread
37 Points
Total Puncture Score Sidewall
Members Only
Tread Puncture Force Sharp Needle
8 Points
Tread Puncture Force Blunt Needle
No Data
Tread Total Tire Thickness
2.3 mm
Sidewall Puncture Force Sharp Needle
Members Only
Sidewall Puncture Force Blunt Needle
No Data
Sidewall Total Tire Thickness
Members Only
What can you expect from a tire with a thin casing, no anti-puncture layer, and not a whole lot of rubber when testing puncture resistance? Not much, unfortunately. With a tread puncture score of just 8 points, it scores much lower than the premium tires that offer close to the same low rolling resistance. Those tires do use an anti-puncture layer and a thicker layer of rubber and seem to score in the 11-12 points range.
On top of a low tread puncture resistance comes a low sidewall puncture resistance. With a score of just 3 points in the sidewall test, it sets the lowest score of all tires I've had the chance to test up to now. Most other road bike tires seem to come in at 4-5 points.
Static Grip Test Results
NOTE: Grip test data is only available on tires tested after November 2018. You can find more information about our grip test here: Introducing Grip Testing
Static Grip Test Results
Wet Grip Average
No Data
Wet Grip Center
No Data
Wet Grip Edge
No Data
Grip in points = coefficient of friction * 100
Conclusion
The Vittoria Rubino Pro Speed offers a low weight and a low rolling resistance at the higher end of the air pressure range. The low rolling resistance comes at the cost of a very low puncture resistance and only a thin layer of rubber. I can't imagine a situation where I would prefer this tire over a Conti GP4000S II or Schwalbe One which offer close to the same rolling resistance but offer a much higher puncture resistance.
The Pro Speed also seems to be priced higher than the usual Rubino pricing. Prices might come down a bit in the future as the new G+ tires are still new. At the moment, pricing is similar to the GP4000S II (read review) and Schwalbe One (read review) which should last just as long or maybe even longer. I rate this tire 4/5 recommended because it does offer a very low rolling resistance which is what it promises.
Ad Buy Vittoria Rubino Pro Speed at Amazon.com
RATING: 4.0 / 5
TEST VERDICT: Recommended
Comments