Tire Test -
Continental Race King RaceSport Tubeless
Published: 2014-07-09 | Jarno Bierman
---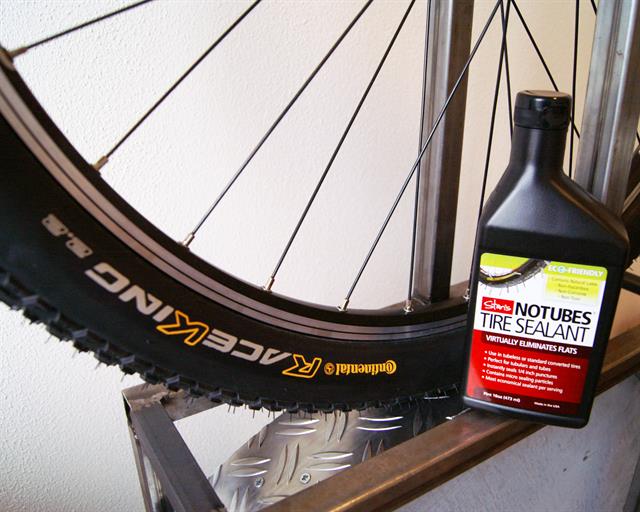 This review is a comparison between a traditional butyl inner tube and a tubeless mountain bike set up, which is something I always wanted to know. I have chosen the Continental Race King RaceSport 29 x 2.2 for this test because it proved to be the fastest of the three mountain bike tires I had the chance to test up to now. I'm going to assume the difference shown in this review will be the same for every other tire out there (a 29 x 2.2/2.25 at least). So you can use this as a reference to calculate the rolling resistance of a tire when mounted tubeless.
Buy Continental Race King RaceSport Tubeless at Amazon.com
As a reference, this review has now been superseded by a much more detailed special article which also includes a latex tube and measurements at 15 psi / 1.0 bar. I highly recommend you to read the special article instead of this short review.
During normal testing, I use a standard Continental 29er butyl inner tube with a weight of 225 grams. For this test, I mounted the tire with tubeless rim tape and 60 ml Stan's NoTubes tubeless sealant to seal it. Even though this tire is not rated Tubeless-Ready, it was no problem to get it inflated (with a compressor), although it did take 3 days to completely seal. I've been using a Race King RaceSport with 60 ml sealant on my own bike for some time already. With this set up there is a 150 grams weight advantage for the tubeless tire.
Manufacturer Specs
Brand
Continental
Model
Race King RaceSport Tubeless
Year
2014
Supplied By
Bought in store
New or Used
New
Mileage
0 km
Price Range
High
Price
Amazon.com
Part Number
0100545
TPI
3/180
Compound
Black Chili
Bead
Folding
ETRTO
57-622
Size Inch
29"
Width Inch
2.20
Specified Weight
540 grams
Max Pressure
65
Made In
Germany
Available Sizes
29 x 2.20
29 x 2.00
27.5 x 2.20
26 x 2.20
26 x 2.00
Test Results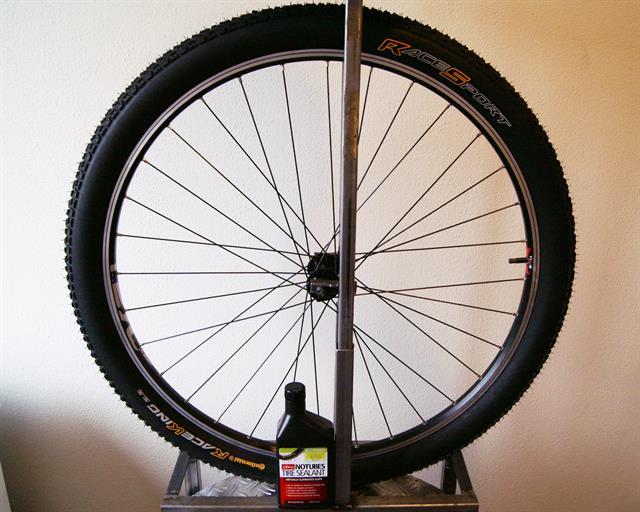 Size and Weight Measurements
Size and Weight Measurements (Bike Wheel: 622-17C, Pressure: 35 psi / 2.4 bar)
Specified Weight
540 grams
Measured Weight
497 grams
Measured Width Carcass
55 mm
Measured Width Tread
51 mm
Measured Height
53 mm
Measured Knob Height Center
2.5 mm
Measured Knob Height Edge
2.5 mm
Measured Total Thickness Sidewall
0.45 mm
Measured Total Thickness Center (excluding knobs)
1.70 mm
No difference, same as with inner tube.
Rolling Resistance Test Results
Rolling Resistance Test Results (Speed: 29 kmh / 18 mph / 8 m/s, Load: 42.5 kg / 417 N)
Inner Tube
None (60 ml sealant)
Rolling Resistance 55 psi / 3,8 Bar
15.5Watts
CRR: 0.00465
Rolling Resistance 45 psi / 3,1 Bar
15.8 Watts
CRR: 0.00474
Rolling Resistance 35 psi / 2,4 Bar
16.2 Watts
CRR: 0.00486
Rolling Resistance 25 psi / 1,7 Bar
17.4 Watts
CRR: 0.00522
Use the formula: RR (watts) = CRR * speed (m/s) * load (N) to calculate rolling resistance at a given speed and load
When comparing the exact same tires, with the only difference being a tubeless set up or a butyl inner tube.
At 55 psi/3.8 bar, the tubeless set up has 2.5 watts less rolling resistance
At 45 psi/3.1 bar, the tubeless set up has 2.9 watts less rolling resistance
At 35 psi/2.4 bar, the tubeless set up has 3.8 watts less rolling resistance
At 25 psi/1.7 bar, the tubeless set up has 5.0 watts less rolling resistance
Puncture Resistance Test Results
Puncture Resistance Test Result (higher is better)
Puncture Resistance Tread
7
Puncture Resistance Sidewall
4
No difference, same as with inner tube.
Conclusion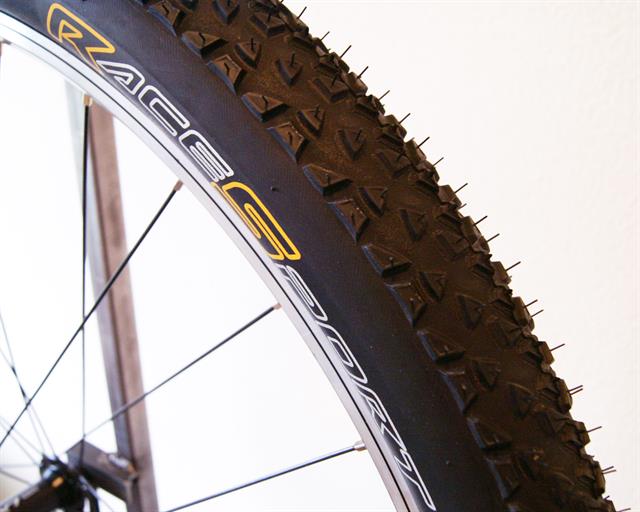 The lower the pressure, the bigger the advantage for the tubeless mountain bike tire. At a pressure of 55 psi, there is a 2.5 watts advantage for the tubeless tire. Dropping pressure to 25 psi results in a 5 watts per tire advantage for the tubeless tire. When going off road you want low air pressure tires for increased grip, comfort, power efficiency and lower surface rolling resistance. With a drop off in tire rolling resistance of just 1.9 watts between a high pressure of 55 psi and a low pressure of 25 psi, this is certainly true for this tubeless mounted Race King.
Buy Continental Race King RaceSport Tubeless at Amazon.com
RATING: 5 / 5
VERDICT: Highly Recommended
Comments