Road Bike Tire Test:

Specialized

S-Works Turbo RapidAir 2Bliss Ready 26
Specialized S-Works Turbo RapidAir 2Bliss Ready 26
---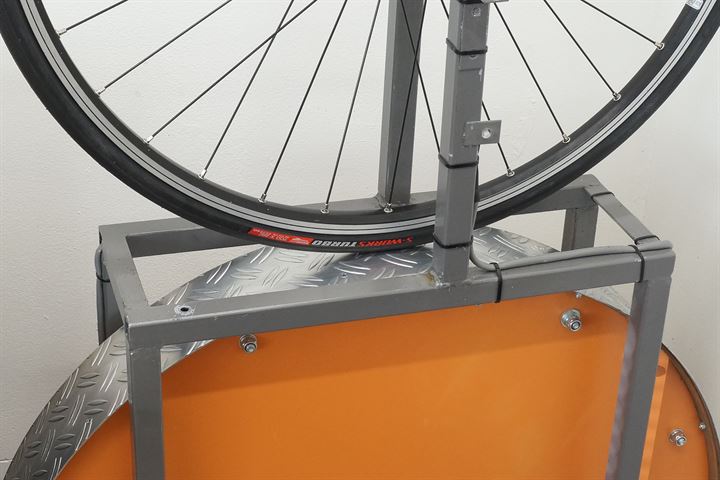 NOTE: We have a test available of a newer version of this tire: Specialized S-Works Turbo RapidAir 2Bliss Ready T2/T5 2022
NOTE: We added wet grip test data on 2021-11-26. The rating of the Specialized RapidAir 2Bliss Ready has been upgraded by 0.3 points because of very good results in the grip test.
The S-Works Turbo RapidAir 2Bliss Ready is a tubeless road bike tire from Specialized made for all-round conditions (see our conclusion about the all-round part). The RapidAir is the tire that received the most votes from our members in October, which indicates that many people want to see how this tire performs in our tests. We want to thank all our members for subscribing, we're very curious which tires will make it to the top of the list in the future.
The foundation of the RapidAir is a 120 TPI "RapidAir" tubeless-ready casing with an extra layer of puncture resistance material under the tread, which is quite a familiar recipe for an all-round road bike tire. The compound is Specialized's in-house developed Gripton compound that is used on many of their high-performance tires. Our previous experience with the Gripton compound is Specialized's Turbo Cotton (read our review) that was one of the fastest tires out there when we tested it back in 2016.
The special thing about this tire is the RapidAir technology that promises easy inflation which in most cases should be possible with just a floor pump. Our experience with the set up of tubeless tires is that the rim makes a huge difference in ease of inflation as some rims simply have been designed with tubeless (inflation) in mind.
On our standard test rim, which is easy to get the tires on the rim but can be a pain to get them inflated, getting the RapidAir onto the rim took average force but inflation was very easy. We also tried a simple floor pump and it inflated very easily even with the valve core in place. The RapidAir was a very pleasant tire to test as we've had tires on this rim that wouldn't even inflate with the valve core removed, 10 bars of compressed air, and sealant all over the place
Manufacturer Specifications
Manufacturer Specifications
Brand
Specialized
Model
S-Works Turbo RapidAir 2Bliss Ready
Year
2020
Tire Type
Tubeless
Supplied By
Bought in store
New or Used
New
Mileage
0 km
Price Range
Very High
Buy At
Manufacturer part number
00019-1152
TPI
120
Compound
Gripton
Bead
Folding
ETRTO
26-622
Size Inch
28"
Specified Width (mm)
26
Specified Weight
265 grams
Max Air Pressure (psi)
100
Made In
Members Only
Available Sizes
26-622 (700x26c)
28-622 (700x28c)
30-622 (700x30c)
Specialized S-Works Turbo RapidAir 2Bliss Ready 26 Test Results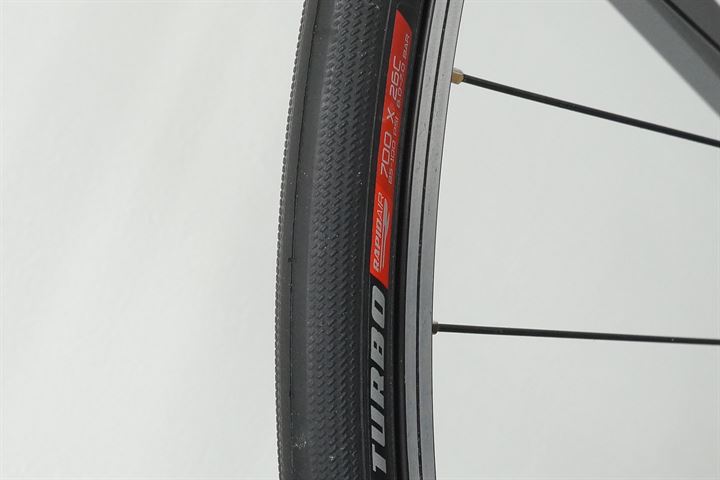 Size, Weight, and Thickness Measurements
Size, Weight and Thickness Measurements
Specified Weight
265 grams
Measured Weight
261 grams
System Adjusted Weight
(tire + valve + rim seal)
281 grams
Measured Width
26 mm (un-round)
Measured Height
23 mm (un-round)
Total Tire Thickness Center
2.2 mm
Total Tire Thickness Sidewall
Members Only
Unmounted Casing Width
65 mm
Unmounted Tread Width
Members Only
Tread Cover (Tread / Casing Ratio)
Members Only
All size measurements are taken at an air pressure of 100 psi / 6.9 bars on a 17.8 mm inner width rim.
Rolling Resistance Test Results
Rolling Resistance Test Results
Inner Tube
None (20 ml sealant)
Measured Width
26 mm (un-round)
Rolling Resistance
Real tire width in mm:
22-24 = 132 psi/9.1 bar
25-27 = 120 psi/8.3 bar
28-29 = 108 psi/7.4 barUltra High Air Pressure
(120 psi / 8.3 bar)
9.7 Watts
CRR: 0.00291
Rolling Resistance
Real tire width in mm:
22-24 = 110 psi/7.6bar
25-27 = 100 psi/6.9 bar
28-29 = 90 psi/6.2 barExtra High Air Pressure
(100 psi / 6.9 bar)
10.5 Watts
CRR: 0.00315
Rolling Resistance
Real tire width in mm:
22-24 = 88 psi/6.1 bar
25-27 = 80 psi/5.5 bar
28-29 = 72 psi/5.0 barHigh Air Pressure
(80 psi / 5.5 bar)
Members Only
Rolling Resistance
Real tire width in mm:
22-24 = 66 psi/4.6 bar
25-27 = 60 psi/4.1 bar
28-29 = 54 psi/3.7 barMedium Air Pressure
(60 psi / 4.1 bar)
Members Only
The Road Bike section is a multi tire size section, air pressures have been adjusted to the measured casing width.

All numbers are for a single tire at a speed of 29 km/h / 18 mph and a load of 42.5 kg / 94 lbs.

Use the formula: RR (Watts) = CRR * speed (m/s) * load (N) to calculate rolling resistance at a given speed and load.
Puncture Resistance Test Results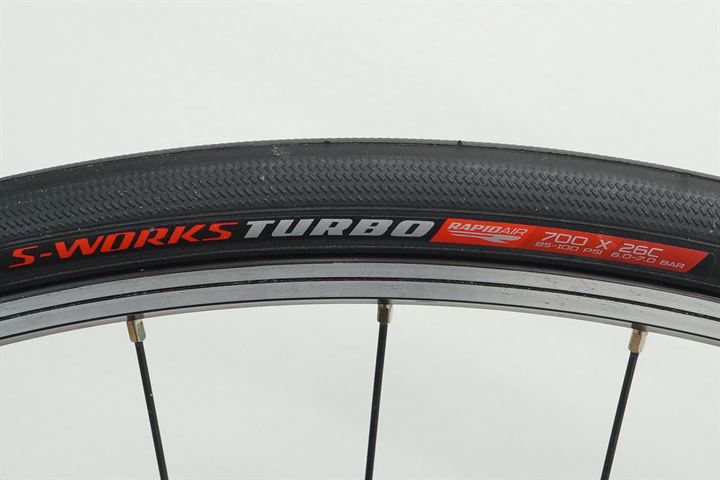 Puncture Resistance Test Results (higher is better)
Total Puncture Score Tread
40 Points
Total Puncture Score Sidewall
Members Only
Tread Puncture Force Sharp Needle
9 Points
Tread Puncture Force Blunt Needle
Members Only
Tread Total Tire Thickness
2.2 mm
Sidewall Puncture Force Sharp Needle
Members Only
Sidewall Puncture Force Blunt Needle
Members Only
Sidewall Total Tire Thickness
Members Only
Static Grip Test Results
NOTE: Grip test data is only available on tires tested after November 2018. You can find more information about our grip test here: Introducing Grip Testing
Static Grip Test Results
Wet Grip Average
73 Points
Wet Grip Center
Members Only
Wet Grip Edge
Members Only
Grip in points = coefficient of friction * 100
Road bike grip test rim width = 19.0 mm
Conclusion
The Specialized Turbo RapidAir is a very fast tubeless road bike tire although drop-off at lower air pressures is slightly higher than some other tires. Specialized claims the Turbo RapidAir is an all-round road bike tire which we don't completely agree with as our definition of an all-round road bike tire requires a tread thickness of at least 2.6 mm.
The best part of the RapidAir is the easy inflation which sometimes can be a real pain with tubeless tires. If you don't mind the slightly lower tread thickness and possibly lower puncture resistance, we're sure you'll be flying on these tires.
RATING: 4.3 / 5
TEST VERDICT: Recommended
Comments