Road Bike Tire Test:

Hutchinson

Fusion 5 Galactik TL
---
---
Hutchinson Fusion 5 Galactik TL
---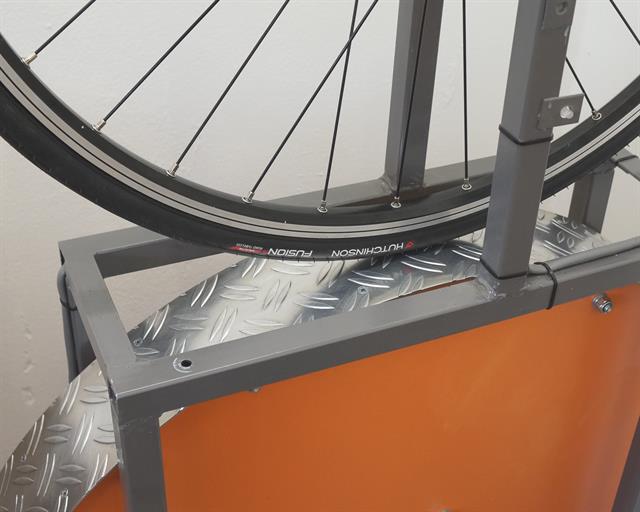 NOTE: We have a test available of a newer version of this tire: Hutchinson Fusion 5 Galactik TLR 11Storm 2021
Hutchinson recently released the Fusion 5 range of tires. I've never tested any Hutchinson tires yet, so this is an excellent opportunity to see how their new Fusion 5 tires perform on our tests. I'm starting out with the fastest of the bunch: the Fusion 5 Galactik Tubeless. The Fusion 5 Galactik uses a 127 TPI tubeless casing, the fastest version of their new compound: HDF 5.1, and no anti-puncture belt under the tread.
Ad Buy Hutchinson Fusion 5 Galactik TL at Amazon.com
All versions of the new Fusion 5 range (Galactik, Performance, All Season) are available in tubeless versions as well as traditional non-tubeless clinchers. The traditional non-tubeless versions are a bit lighter as they have thinner sidewalls and less rubber in the bead area. As all the other specs appear to be the same, performance of these tires should be very comparable to the tubeless versions depending on the inner tube that's used.
Because the Fusion 5 Galactik doesn't use an anti-puncture belt under the tread, it's probably the version that takes the most advantage when used in tubeless form as the tubeless sealant should seal most small holes instantly. I must add that I'm quite impressed with the new Fusion 5 range and also the choice to offer all tires as a tubeless and non-tubeless version. I have reviews coming of the Fusion 5 Performance Tubeless (adds a kevlar puncture protection belt) and the Fusion 5 All Season Tubeless (better grip, puncture protection, and durability) as well.
Manufacturer Specifications
Manufacturer Specifications
Brand
Hutchinson
Model
Fusion 5 Galactik TL
Year
2017
Tire Type
Tubeless
Supplied By
Bought in store
New or Used
New
Mileage
0 km
Price Range
High
Buy At

Ad

Amazon.com
Manufacturer part number
PV525951
TPI
127
Compound
HDF 5.1
Bead
Folding
ETRTO
25-622
Size Inch
28"
Specified Width (mm)
25
Specified Weight
260 grams
Max Air Pressure (psi)
115
Made In
Members Only
Available Sizes
23-622 (700x23C)
25-622 (700x25C)
Hutchinson Fusion 5 Galactik TL Test Results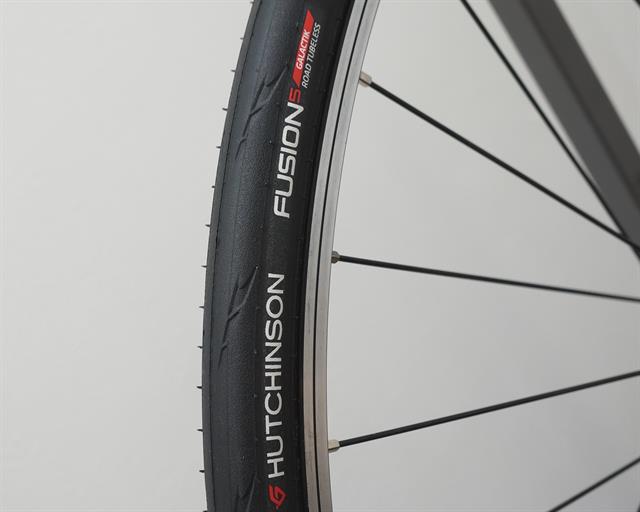 Size, Weight, and Thickness Measurements
advertisement
Size, Weight and Thickness Measurements
Specified Weight
260 grams
Measured Weight
288 grams
System Adjusted Weight
(tire + valve + rim seal)
308 grams
Measured Width
26 mm (un-round)
Measured Height
23 mm (un-round)
Total Tire Thickness Center
2.5 mm
Total Tire Thickness Sidewall
Members Only
Unmounted Casing Width
64 mm
Unmounted Tread Width
Members Only
All size measurements are taken at an air pressure of 100 psi / 6.9 bars on a 17.8 mm inner width rim.
Specified weight of the 25-622 Fusion 5 Galactik Tubeless is 260 grams; my sample came in at a much higher 288 grams. The 28 grams of extra weight is more than 10% extra which isn't that good. Sizewise, these come in very close to the specified size. On my 17C rim, at an air pressure of 100 psi / 6.9 bars, measured width is 26 mm and height is 23 mm.
Measuring the total thickness of the tread and sidewalls is always interesting as it gives us a good understanding of the design choices that were made. I've measured the tread part of the tire at 2.5 mm thick which surprised me a bit as it's more than I expected. Most tires without an anti-puncture layer that have been optimized for speed seem to come in closer to 2.0 mm. The sidewalls have a thickness of 1.05 mm. Most non-tubeless, high TPI tires have sidewalls with a thickness of closer to 0.5 mm.
Rolling Resistance Test Results
Rolling Resistance Test Results
Inner Tube
None (20 ml sealant)
Rolling Resistance
140 PSI / 9.7 Bar
Not Tested
Rolling Resistance
120 PSI / 8.3 Bar
10.1 Watts
CRR: 0.00303
Rolling Resistance
100 PSI / 6.9 Bar
11.0 Watts
CRR: 0.00330
Rolling Resistance
80 PSI / 5.5 Bar
Members Only
Rolling Resistance
60 PSI / 4.1 Bar
Members Only
All numbers are for a single tire at a speed of 29 km/h / 18 mph and a load of 42.5 kg / 94 lbs.

Use the formula: RR (Watts) = CRR * speed (m/s) * load (N) to calculate rolling resistance at a given speed and load.
I didn't expect it, but this is a very fast tire. The Fusion 5 Galactik Tubeless comes in near the top of the chart, just behind the Corsa Speed (read review) and Grand Prix TT (read review) which are time-trial tires that have a tread thickness of less than 2 mm. When we compare the Galactik with the top performer in its class, which is the Schwalbe Pro One Tubeless, it outperforms the Schwalbe by 0.5 - 1.0 watt. It looks like Hutchinson is now able to compete with the big boys in the rolling resistance tests.
These results are very promising; it looks like manufacturers are working hard and tires are improving quickly. It's also good to see another tubeless tire that's a real option when you're about to move into the tubeless game. The non-tubeless Galactik should perform very close to the tubeless version depending on which inner tube is used; a bit more rolling resistance with a standard 100 grams butyl tube and a bit less when used with a latex tube.
Puncture Resistance Test Results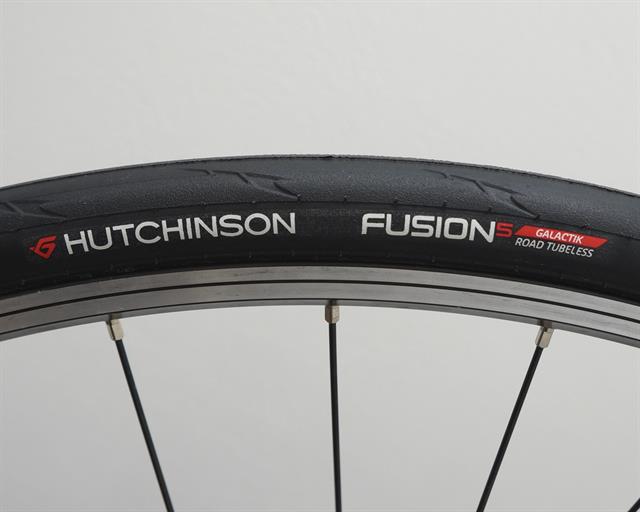 Puncture Resistance Test Results (higher is better)
Total Puncture Score Tread
41 Points
Total Puncture Score Sidewall
Members Only
Tread Puncture Force Sharp Needle
9 Points
Tread Puncture Force Blunt Needle
No Data
Tread Total Tire Thickness
2.5 mm
Sidewall Puncture Force Sharp Needle
Members Only
Sidewall Puncture Force Blunt Needle
No Data
Sidewall Total Tire Thickness
Members Only
As expected from a tire without an anti-puncture belt under the tread, puncture resistance of the tread comes in at just 9 points. With this being a tubeless tire, the 9 points shouldn't be so bad as the sealant will seal the small punctures. Puncture resistance of the sidewall comes in at 5 points which isn't that good for a tubeless tire. The Schwalbe Pro One Tubeless (read review) did a bit better in both puncture tests as it came in at 11 points tread and 6 points sidewall.
Static Grip Test Results
NOTE: Grip test data is only available on tires tested after November 2018. You can find more information about our grip test here: Introducing Grip Testing
Static Grip Test Results
Wet Grip Average
No Data
Wet Grip Center
No Data
Wet Grip Edge
No Data
Grip in points = coefficient of friction * 100
Conclusion
I'm impressed by the low rolling resistance of the Fusion 5 Galactik; it's good to see another manufacturer mixing in near the top of the rolling resistance charts. I also like the decision Hutchinson made to release both tubeless and non-tubeless versions of their entire Fusion 5 range of tires. Keep an eye on the site as I have reviews of the Fusion 5 Performance and All Season coming soon as well.
If you're looking for tubeless tires, there aren't that many choices out there. The Fusion 5 Galactik is a bit slower than the pure time-trial Vittoria Corsa Speed (Open TLR), but these should be much more durable as the construction of the Galactik comes much closer to the Conti Grand Prix 4000S II class of tires. As the Galactik is faster than the Grand Prix 4000S II, I rate it 5/5.
Ad Buy Hutchinson Fusion 5 Galactik TL at Amazon.com
RATING: 5.0 / 5
TEST VERDICT: Highly Recommended
Comments