Road Bike Tire Test:

Schwalbe

Ultremo ZX
---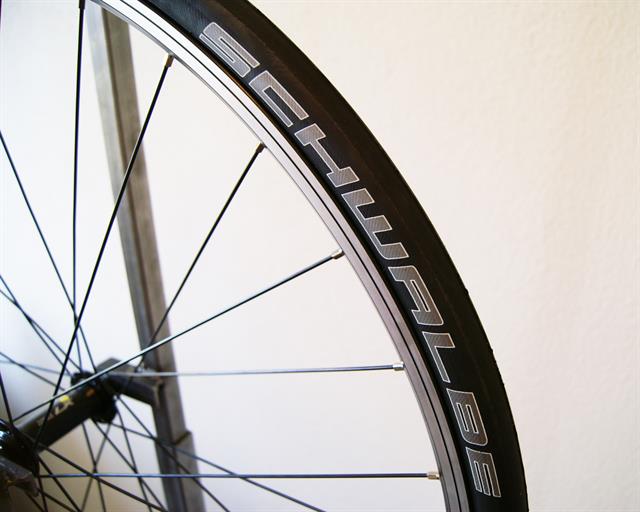 NOTE: We have a test available of a newer version of this tire: Schwalbe One V-Guard 2014
The Ultremo ZX Evolution 700 x 25C V-Guard was the high-end, all-round road bike tire from Schwalbe, suitable for racing and training. The Ultremo ZX has a triple compound RaceStar compound, which is optimized for grip, rolling resistance and long service life. V-Guard means it has an extra puncture resistant layer that helps prevent flat tires but obviously adds rolling resistance. There is a version without the puncture resistant layer available from Schwalbe as well: the Ultremo ZLX.
Since the beginning of 2014, Schwalbe has a new top of the line road bike tire: the Schwalbe One. Read our review of the new Schwalbe One here. The One has a much lower rolling resistance and seems to be a big improvement over the Ultremo.
Manufacturer Specifications
Manufacturer Specifications
Brand
Schwalbe
Model
Ultremo ZX
Year
2014
Tire Type
Tubetype (clincher)
Supplied By
Bought in store
New or Used
New
Mileage
0 km
Price Range
Med
Buy At
Manufacturer part number
11600036.02
TPI
127
Compound
RaceStar
Bead
Folding
ETRTO
25-622
Size Inch
28"
Specified Width (mm)
25
Specified Weight
215 grams
Max Air Pressure (psi)
130
Made In
Members Only
Available Sizes
23-622 (700x23C)
25-622 (700x25C)
Schwalbe Ultremo ZX Test Results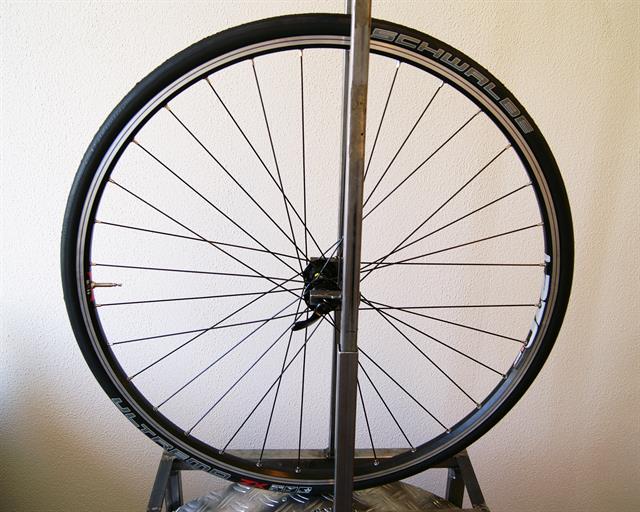 Size, Weight, and Thickness Measurements
advertisement
Size, Weight and Thickness Measurements
Specified Weight
215 grams
Measured Weight
229 grams
System Adjusted Weight
(tire + inner tube (100 gr)
329 grams
Measured Width
25 mm (un-round)
Measured Height
23 mm (un-round)
Total Tire Thickness Center
No Data
Total Tire Thickness Sidewall
Members Only
Unmounted Casing Width
No Data
Unmounted Tread Width
No Data
All size measurements are taken at an air pressure of 100 psi / 6.9 bars on a 17.8 mm inner width rim.
This tire also can't touch it's specified weight of 215 grams with a measured weight of 229 grams. Volume wise, this tire has a real width of 25 mm on a 17C rim, which means it's a true 25C tire, but it's a bit smaller when compared to most other 25C tires.
Rolling Resistance Test Results
Rolling Resistance Test Results
Inner Tube
Conti Race28 (100gr butyl)
Rolling Resistance
140 PSI / 9.7 Bar
Not Tested
Rolling Resistance
120 PSI / 8.3 Bar
14.1 Watts
CRR: 0.00423
Rolling Resistance
100 PSI / 6.9 Bar
15.0 Watts
CRR: 0.00450
Rolling Resistance
80 PSI / 5.5 Bar
Members Only
Rolling Resistance
60 PSI / 4.1 Bar
Members Only
All numbers are for a single tire at a speed of 29 km/h / 18 mph and a load of 42.5 kg / 94 lbs.

Use the formula: RR (Watts) = CRR * speed (m/s) * load (N) to calculate rolling resistance at a given speed and load.
The Ultremo ZX can't compete with other road bike tires in the same class when solely looking at rolling resistance. At an air pressure of 120 psi, rolling resistance is 14.1 watts. At an air pressure of 100 psi, rolling resistance is 15.0 watts. Dropping pressure to 80 psi results in a rolling resistance of 16.1 watts. The Ultremo ZX gets outclassed by cheaper tires like the Vittoria Rubino Pro and Continental Grand Prix in the rolling resistance test.
Puncture Resistance Test Results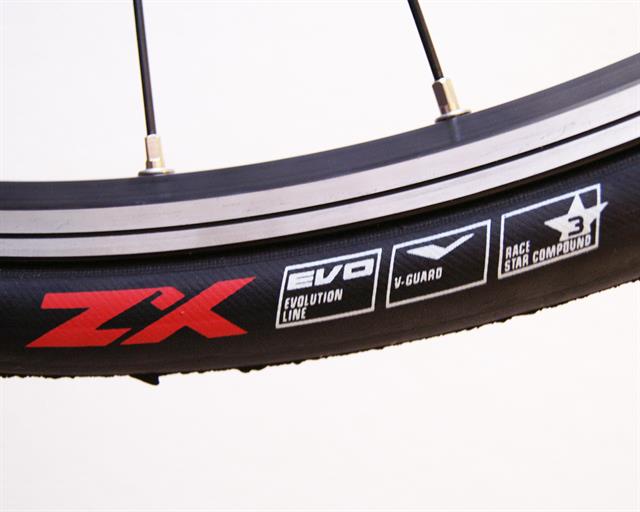 Puncture Resistance Test Results (higher is better)
Total Puncture Score Tread
No Data
Total Puncture Score Sidewall
Members Only
Tread Puncture Force Sharp Needle
12 Points
Tread Puncture Force Blunt Needle
No Data
Tread Total Tire Thickness
No Data
Sidewall Puncture Force Sharp Needle
Members Only
Sidewall Puncture Force Blunt Needle
No Data
Sidewall Total Tire Thickness
Members Only
The Ultremo ZX also isn't able to do anything exciting in the puncture resistance test. With a score of 12 in the puncture resistance test it sets an average score and doesn't impress.
Static Grip Test Results
NOTE: Grip test data is only available on tires tested after November 2018. You can find more information about our grip test here: Introducing Grip Testing
Static Grip Test Results
Wet Grip Average
No Data
Wet Grip Center
No Data
Wet Grip Edge
No Data
Grip in points = coefficient of friction * 100
Conclusion
I find it hard to judge this tire. Rolling resistance isn't very low and puncture resistance isn't very good, it doesn't really stand out in anything. It might have a small disadvantage in the rolling resistance test because it's a true 25 mm tire while most other 25C tires are a bit bigger. Maybe it has great wear and grip, but that's for others to test.
When focusing purely on rolling resistance and puncture resistance (which is what we do at Bicycle Rolling Resistance) you're better off buying a Continental Grand Prix or Vittoria Rubino Pro. Those tires score better in every test and you even pay less as a bonus.
RATING: 2.0 / 5
TEST VERDICT: Not Recommended
Comments