MTB Tire Test:

Continental

Race King Protection 2015
Continental Race King Protection 2015
---
---
---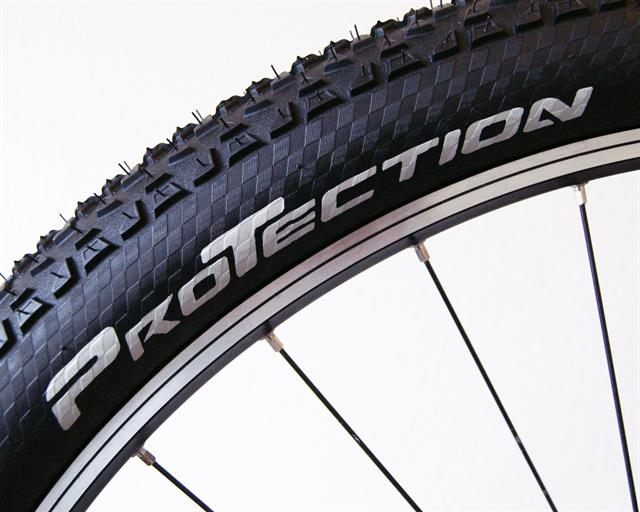 NOTE: We have a test available of a newer version of this tire: Continental Race King Protection 2020
The Continental Race King Protection 29 x 2.2 is the toughest member of the Continental Race King family. I've already reviewed the RaceSport, Performance and Sport versions of the Race King. The Protection version uses a stronger 4/240 TPI carcass and the same BlackChili compound that's used on the fast RaceSport version. Continental claims improved side-wall and tread puncture resistance with the Protection series. This review has been partly funded by donations. Thank you supporters!
Ad Buy Continental Race King Protection 2015 at Amazon.com
The Protection series of mountain bike tires are the only tires specified by Continental to be Tubeless-Ready. Although I use RaceSport tires without inner tubes myself, those aren't that easy to seal. It can take a couple of days before the RaceSport tires hold air. Comparing the Race King Protection to the RaceSport side by side, it should be easy to set up tubeless as the side-walls are much thicker and stronger.
Most other Continental cross-country mountain bike tires are available as Sport, Performance, RaceSport and Protection versions just like the Race King. With this last review of the Race King Protection, It should be easier to decide which version fits your exact needs. These differences should be pretty similar for other Continental mountain bike tires like the Mountain King and X-King. Now, let's see how the Race King Protection performs in our tests.
Manufacturer Specifications
Manufacturer Specs
Brand
Continental
Model
Race King Protection 2015
Year
2015
Supplied By
Bought in store
New or Used
New
Mileage
0 km
Price Range
High
Buy At

Ad

Amazon.com
Manufacturer part number
0100546
TPI
4/240
Compound
Black Chili
Bead
Folding
ETRTO
55-622
Size Inch
29"
Width Inch
2.20
Specified Weight
645 grams
Max Air Pressure (psi)
65
Made In
Members Only
Available Sizes
29x2.20
27.5x2.20
26x2.20
Continental Race King Protection 2015 Test Results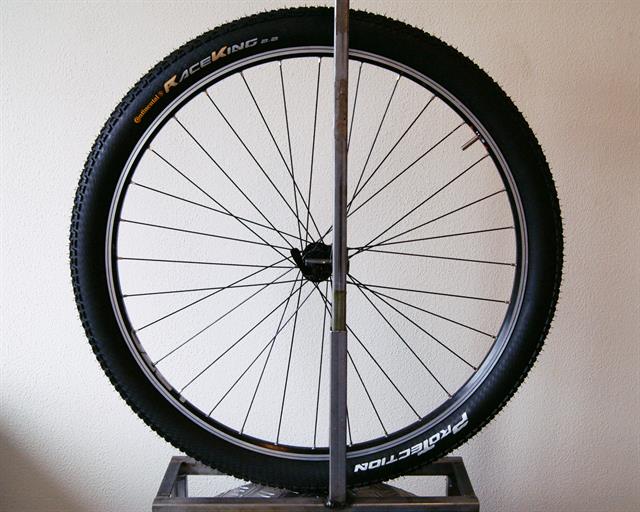 Size, Weight, and Thickness Measurements
Size, Weight, and Thickness Measurements
Specified Weight
645 grams
Measured Weight
629 grams
Measured Width Carcass
55 mm (un-round)
Measured Width Tread
51 mm
Measured Height
54 mm (un-round)
Measured Knob Height Center
2.5 mm
Measured Knob Height Edge
2.5 mm
Measured Total Thickness Center (excluding knobs)
1.75 mm
Measured Total Thickness Sidewall
Members Only
All size measurements are taken at an air pressure of 35 psi / 2.4 bars on a 17.8 mm inner width rim.
The specified weight of the Race King Protection 29 x 2.2 is 645 grams. Our tire comes in at 629 grams. On average, the Protection series adds a bit more than 100 grams of weight. Once again: you always pay for protection. Just like the other Race Kings, the size of the Protection is huge. The width of the carcass is 55 mm while the tread is only 51 mm wide. Height is 54 mm which is quite big as well.
Rolling Resistance Test Results
Rolling Resistance Test Results
Inner Tube
None (40 ml sealant)

(current protocol)
Conti MTB 29 (225 gr butyl)

(test protocol)
Rolling Resistance
55 PSI / 3.8 Bar
Members Only
Members Only
Rolling Resistance
45 PSI / 3.1 Bar
Members Only
Members Only
Rolling Resistance
35 PSI / 2.4 Bar
17.6 Watts
CRR: 0.00528
21.1 Watts
CRR: 0.00632
Rolling Resistance
25 PSI / 1.7 Bar
18.8 Watts
CRR: 0.00564
23.3 Watts
CRR: 0.00698
All numbers are for a single tire at a speed of 29 km/h / 18 mph and a load of 42.5 kg / 94 lbs.

Use the formula: RR (Watts) = CRR * speed (m/s) * load (N) to calculate rolling resistance at a given speed and load.
Big surprise! Rolling resistance of the Race King Protection is only slightly higher than the very fast Race King RaceSport. At an air pressure of 25 psi, rolling resistance is 23.3 watts as compared to 22.4 watts for the RaceSport version. At higher air pressures, rolling resistance is 1.1 - 1.3 watts higher than the RaceSport version, which really isn't that much for the added protection and weight.
I'm really surprised by this great performance in the rolling resistance test. I was expecting the Protection version to come in closer to the 25-26 watts range. This really shows that with the right design and materials, protection doesn't have to cost all that much in terms of performance.
Puncture Resistance Test Results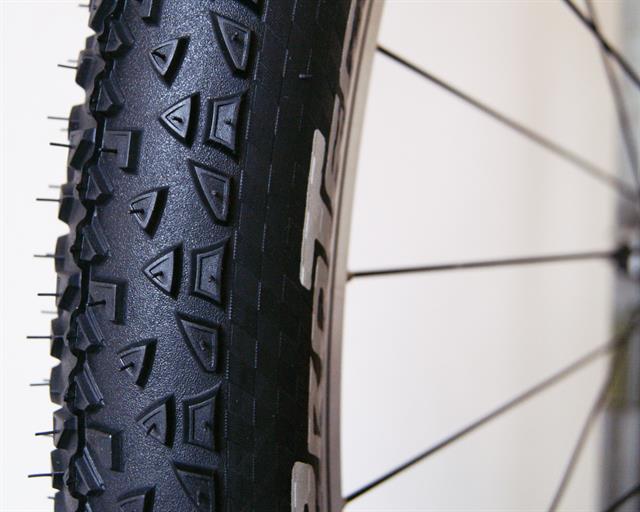 Puncture Resistance Test Results (higher is better)
Total Puncture Score Tread
45 Points
Total Puncture Score Sidewall
Members Only
Tread Puncture Force Sharp Needle
12 Points
Tread Puncture Force Blunt Needle
No Data
Tread Total Tire Thickness
1.75 mm
Sidewall Puncture Force Sharp Needle
Members Only
Sidewall Puncture Force Blunt Needle
No Data
Sidewall Total Tire Thickness
Members Only
Just like the rolling resistance test, the performance of the Race King Protection in the puncture resistance test is great. It scores a PR score of 12, which is much higher than the PR score of 7 the RaceSport version got. With a score of 12, the Protection also beats the Performance version which got a score of 11.
Conclusion
Continental Race King Protection 2015
Performance compared to all other MTB tires
(100% is fastest - lightest - highest - strongest)
I must admit, I didn't expect the Race King Protection to have such a low rolling resistance. I expected it to perform close to the cheaper Performance version in both the rolling resistance and puncture resistance tests. Compared to the RaceSport version which has the same price, rolling resistance is only 1 watt higher while you gain a lot of puncture resistance. Also, using the Protection tire in a tubeless set up should be much easier as well.
I definitely recommend the Continental Protection tires. The biggest disadvantage over the RaceSport tires will be the added weight of 110 grams per tire. Race performance = RaceSport, all other use = Protection.
Ad Buy Continental Race King Protection 2015 at Amazon.com
RATING: 5.0 / 5
TEST VERDICT: Highly Recommended
Comments