MTB Tire Test:

Continental

Race King Protection
Continental Race King Protection
---
---
---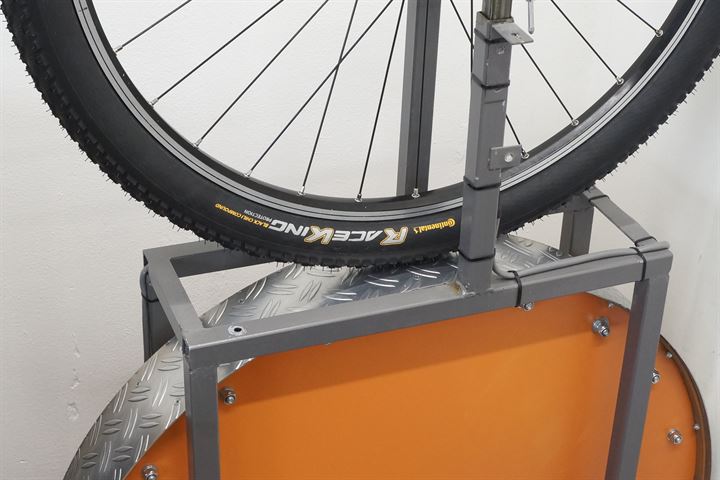 The Continental Race King has been our favorite XC mountain bike tire for rear wheel use as it rolls very fast yet still provides good knob-height for most dry conditions. We tested almost every version of the Race King (RaceSport, Protection, Performance, Sport) back in 2014/2015 and we now feel it's time to retest and see how the 2020 Race King compares to the same tires from 5 years ago.
Ad Buy Continental Race King Protection at Amazon.com
We've picked the Protection version of the 2020 Race King as we feel this tire has changed the most when compared to the Protection version from 2015. The 2015 Race King Protection came with a 4/240 TPI casing that had a protection layer that ran from bead to bead. The new Protection version uses the same 3/180 TPI casing as the lighter RaceSport version but with an additional protection layer that only protects the sidewalls.
The result of the new casing design is a lighter tire that rolls faster. The downside is the tread of the new Race King Protection will be easier to puncture. Our tests back in 2015 showed us the tread of the 2015 Race King Protection was very hard to puncture, it still is one of the toughest mountain bike tires in our database. Still, when using these tires the way they are meant to be used, which is tubeless with sealant, puncture resistance of the tread shouldn't be a big issue in most circumstances as the sealant will seal most punctures.
Together with this Race King Protection test, we also tested the Cross King Protection which is often used as a front tire with the Race King on the rear. We found the Cross King uses a different version of the Continental Black Chili compound that rolls much slower. Read our Cross King Protection review for more information.
Manufacturer Specifications
Manufacturer Specs
Brand
Continental
Model
Race King Protection
Year
2020
Supplied By
Bought in store
New or Used
New
Mileage
0 km
Price Range
High
Buy At

Ad

Amazon.com
Manufacturer part number
0101473
EAN
4019238798128
TPI
3/180
Compound
Black Chili
Bead
Folding
ETRTO
55-622
Size Inch
29"
Width Inch
2.20
Specified Weight
605 grams
Max Air Pressure (psi)
58
Made In
Members Only
Available Sizes
26x2.20
27.5x2.20
29x2.20
Continental Race King Protection Test Results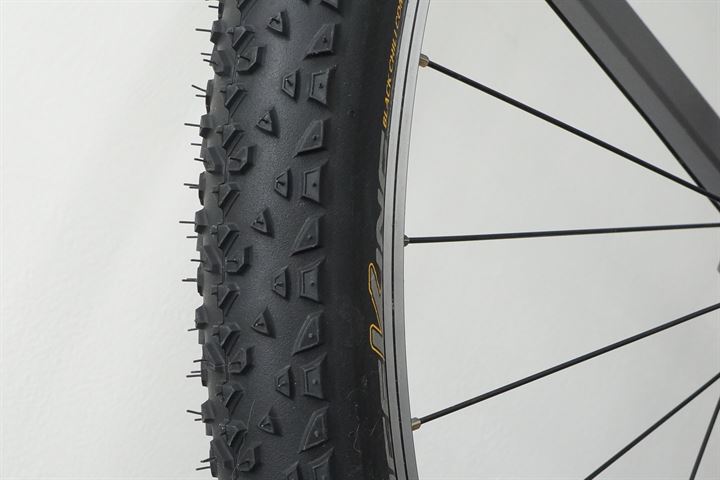 Size, Weight, and Thickness Measurements
Size, Weight, and Thickness Measurements
Specified Weight
605 grams
Measured Weight
588 grams
Measured Width Carcass
53 mm (un-round)
Measured Width Tread
51 mm
Measured Height
52 mm (un-round)
Measured Knob Height Center
2.5 mm
Measured Knob Height Edge
3.0 mm
Measured Total Thickness Center (excluding knobs)
1.8 mm
Measured Total Thickness Sidewall
Members Only
All size measurements are taken at an air pressure of 35 psi / 2.4 bars on a 17.8 mm inner width rim.
Rolling Resistance Test Results
Rolling Resistance Test Results
Inner Tube
None (40 ml sealant)

(current protocol)
Conti MTB 29 (225 gr butyl)

(test protocol)
Rolling Resistance
55 PSI / 3.8 Bar
Members Only
Members Only
Rolling Resistance
45 PSI / 3.1 Bar
Members Only
Members Only
Rolling Resistance
35 PSI / 2.4 Bar
14.5 Watts
CRR: 0.00435
18.0 Watts
CRR: 0.00540
Rolling Resistance
25 PSI / 1.7 Bar
15.7 Watts
CRR: 0.00471
20.2 Watts
CRR: 0.00606
All numbers are for a single tire at a speed of 29 km/h / 18 mph and a load of 42.5 kg / 94 lbs.

Use the formula: RR (Watts) = CRR * speed (m/s) * load (N) to calculate rolling resistance at a given speed and load.
Puncture Resistance Test Results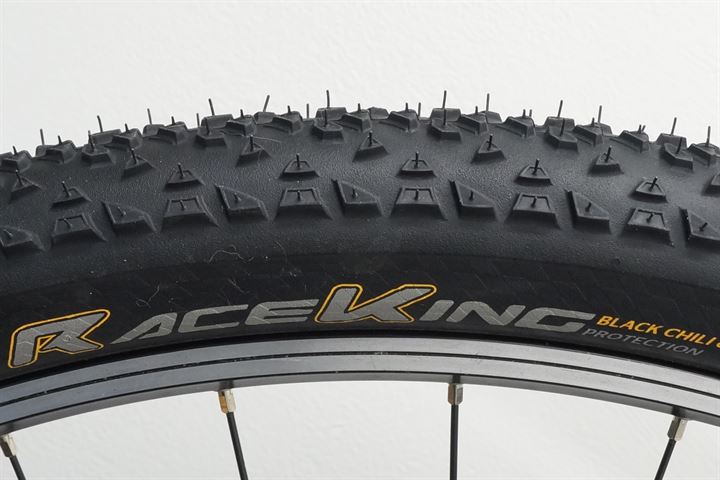 Puncture Resistance Test Results (higher is better)
Total Puncture Score Tread
29 Points
Total Puncture Score Sidewall
Members Only
Tread Puncture Force Sharp Needle
7 Points
Tread Puncture Force Blunt Needle
Members Only
Tread Total Tire Thickness
1.8 mm
Sidewall Puncture Force Sharp Needle
Members Only
Sidewall Puncture Force Blunt Needle
Members Only
Sidewall Total Tire Thickness
Members Only
Hard Surface Static Grip Test Results
Conclusion
Continental Race King Protection
Performance compared to all other MTB tires
(100% is fastest - lightest - highest - strongest)
The 2020 Race King Protection is an extremely fast rolling tire that even outperforms the lighter 2014 Race King RaceSport while providing much better sidewall puncture protection. We attribute the lower rolling resistance to an improved Black Chili compound and the slightly more open tread pattern of the new Race King. Compared to the older Race King Protection with the 4/240 casing, puncture resistance of the tread has gone down and is now in line with most other mountain bike tires that do not use a protective layer under the tread.
We feel it's safe to assume the 2020 RaceSport version of this tire rolls even faster than the Protection version as it uses the same casing without the sidewall protection. From experience, we estimate this to be in the range of 1-2 watts per tire in our test.
We do have one thing to complain about which is Continental not being more open about different versions of their Black Chili compound. The Race King definitely uses a faster rolling version of this compound than the much slower rolling Cross King while Conti's website only indicates both use the "Black Chili" compound.
Ad Buy Continental Race King Protection at Amazon.com
RATING: 5.0 / 5
TEST VERDICT: Highly Recommended
Comments