MTB Tire Test:

Schwalbe

Big One LiteSkin PaceStar
Schwalbe Big One LiteSkin PaceStar
---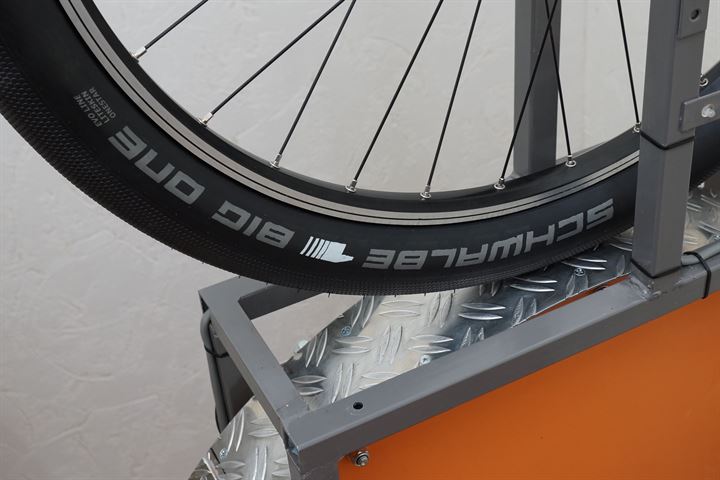 The Schwalbe Big One is a mountain bike tire designed for beach racing. Because of the beach racing requirements, the Big One has a huge volume, minimal profile and an extremely low weight for its size. Schwalbe claims the Big One, when mounted tubeless, is the fastest tire they have ever produced. If that claim is true, it should have less rolling resistance than some of the fastest road bike tires on the market.
I'm testing the LiteSkin version of the Big One, which is only available in the more popular 29 x 2.35 size. A Tubeless-Easy version is also available in 27.5 x 2.35 and 29 x 2.35 sizes, 26 is not available at the moment. I'm testing the LiteSkin version because I want to know how an extremely light, but big tire performs in the rolling resistance test. Although this tire is marketed as a beach tire, it should be useful as a rear tire in all-round cross-country usage as well.
It should be possible to mount the LiteSkin version tubeless to get the ultimate performance, but it will be much harder to get it to seal than the Tubeless-Easy version. If you want to use the Big One in a Tubeless configuration, I recommend the TL-Easy version because I've found there to be only a very minimal difference in rolling resistance between LiteSkin and TL-Easy.
Manufacturer Specifications
Manufacturer Specs
Brand
Schwalbe
Model
Big One LiteSkin PaceStar
Year
2016
Supplied By
Bought in store
New or Used
New
Mileage
0 km
Price Range
High
Buy At
Manufacturer part number
11600805
TPI
127
Compound
OneStar
Bead
Folding
ETRTO
60-622
Size Inch
29"
Width Inch
2.35
Specified Weight
440 grams
Max Pressure
50
Made In
Indonesia
Available Sizes
29 x 2.35
Schwalbe Big One LiteSkin PaceStar Test Results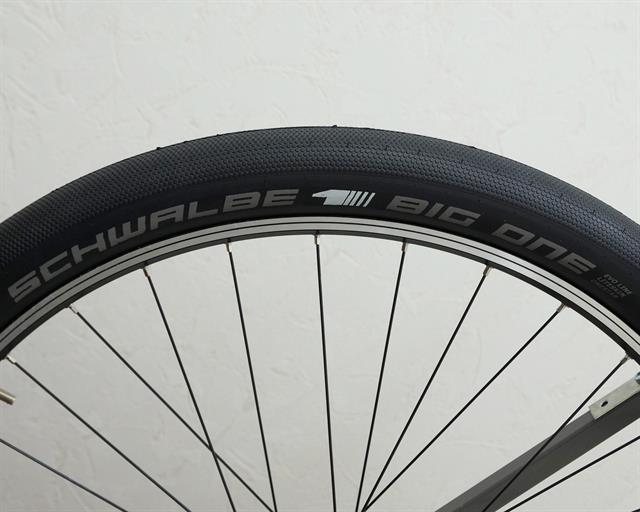 Size, Weight, and Thickness Measurements
advertisement
Size, Weight, and Thickness Measurements
Specified Weight
440 grams
Measured Weight
458 grams
Measured Width Carcass
57 mm
Measured Width Tread
57 mm
Measured Height
54 mm
Measured Knob Height Center
0.5 mm
Measured Knob Height Edge
0.5 mm
Measured Total Thickness Sidewall
0.50 mm
Measured Total Thickness Center (excluding knobs)
1.10 mm
All size measurements are taken at an air pressure of 35 psi / 2.4 bars on a 17.8 mm inner width rim.
Schwalbe claims a weight of 440 grams for the 29 x 2.35 LiteSkin. My sample comes in at 458 grams which is still excellent for such a big tire. Measured width on a 17C rim, at an air pressure of 35 psi is 57 mm. The measured height is 54 mm. Although the Big One is only 2 mm wider than a Race King 2.2, it looks gigantic because of the tiny knobs.
As expected, the 'knobs' on the Big One are tiny with a height of just 0.5 mm at both the center and edge of the tire. The total measured thickness of the tire excluding the knobs is just 1.1 mm. I suspect when the knobs are worn off, there won't be much rubber left over so tire life will be short. The sidewalls are very thin as well with a thickness of 0.5 mm. The sidewall thickness of 0.5 mm is in line with the other Schwalbe LiteSkin tires.
Rolling Resistance Test Results
Rolling Resistance Test Results
Inner Tube
Conti MTB 29 (225 gr butyl)
Rolling Resistance
55 PSI / 3.8 Bar
11.8Watts
CRR: 0.00354
Rolling Resistance
45 PSI / 3.1 Bar
12.5 Watts
CRR: 0.00375
Rolling Resistance
35 PSI / 2.4 Bar
13.6 Watts
CRR: 0.00408
Rolling Resistance
25 PSI / 1.7 Bar
15.8 Watts
CRR: 0.00474
All numbers are for a single tire at a speed of 29 km/h / 18 mph and a load of 42.5 kg / 94 lbs.

Use the formula: RR (Watts) = CRR * speed (m/s) * load (N) to calculate rolling resistance at a given speed and load.
Rolling resistance is extremely low. At the low air pressure of 25 psi, the Big One dethrones the Continental Speed King II by 3.3 watts (15.8 Vs 19.1 Watts). What's even more surprising is that at the high air pressure of 55 psi, the Big One with a 225 grams butyl inner tube has less rolling resistance than a Schwalbe One V-Guard or Continental Grand Prix 4000S II road bike tire at 120 psi!
What about Schwalbe's claim of the Big One being their fastest tire ever produced? I didn't test the Big One in a tubeless configuration, but when taking the numbers from my Tubeless Vs Latex Vs Butyl article, rolling resistance at 55 psi should be close to 9.3 watts. Even at the much lower air pressure of 25 psi, rolling resistance should be close to 10.8 watts when used in a tubeless configuration. This really is an insanely fast tire.
Puncture Resistance Test Results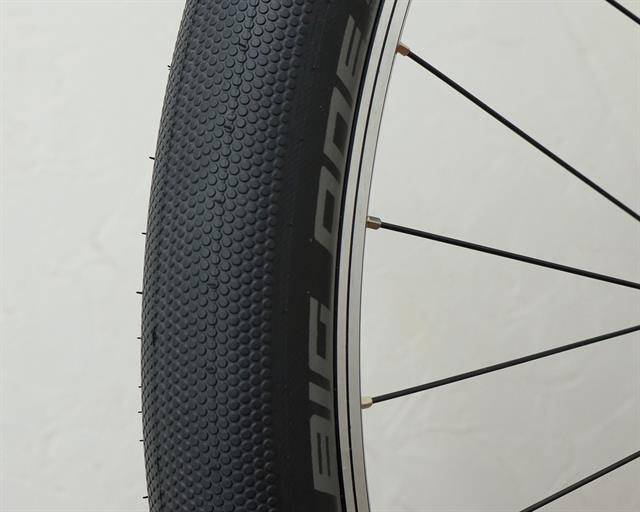 Puncture Resistance Test Result (higher is better)
Puncture Resistance Tread
6 Points
Puncture Resistance Sidewall
4 Points
While the Big One has an extremely low rolling resistance, puncture resistance isn't that good. With a tread score of 6 points, it's one of the lowest scoring MTB tires. Sidewall puncture resistance is similar to other Schwalbe LiteSkin tires at 4 points. When used tubeless, the low puncture resistance shouldn't be that big of a problem as the sealant should seal most small holes.
Conclusion
Schwalbe Big One LiteSkin PaceStar
Performance compared to all other MTB tires
(100% is fastest - lightest - highest - strongest)
If you're into beach racing, getting a pair of Schwalbe Big Ones should be a no-brainer as these will make you fly on the beach. Even when you're into more all-round mountain biking, the Big One can be an option if you want ultimate performance and the conditions suit this tire. Puncture resistance and tread thickness are very low so be prepared for short tire life when used on anything other than clean sand.
When using the Big One in a tubeless configuration, rolling resistance will be another 2.5 - 5 watts lower when compared to the results with a 225 grams butyl tube (Read Tubeless Vs Latex Vs Butyl Article). If you want a trouble-free tubeless operation, grab the Tubeless-Easy. If you want to push those last 1-2 watts of performance out of your tires, grab the LiteSkins.
RATING: 5 / 5
TEST VERDICT: Highly Recommended
Comments