MTB Tire Test:

Schwalbe

Racing Ralph Performance
---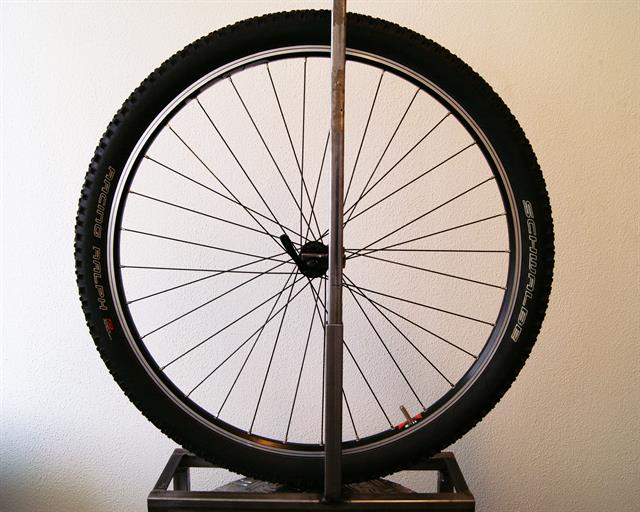 Two weeks ago I reviewed a Nobby Nic Performance-line mountain bike tire, which was run for 2.5 years and 3000 km. Today I'm reviewing its little brother: The Schwalbe Racing Ralph Performance. This Racing Ralph has traveled the exact same distance as the Nobby Nic but served on the rear wheel. Wear after 3000 km was only 1.2 mm at the central knobs (Ralph's have 2.5 mm when new) and 0.1 mm at the side knobs. This is very low, partly because it was only run on Dutch trails which are very easy on tires. So how much can you gain when replacing a 50% worn down Racing Ralph Performance with a brand new Racing Ralph Evolution?
This Racing Ralph Performance has the older ORC (Offroad Racing Compound) rubber. Currently shipping performance-line tires from Schwalbe come with a newer dual compound rubber which should be better. Just like the Nobby Nic Performance, mounting the tire on the rim was very easy. The bead definitely is much 'looser' when compared to the Tubeless-Ready Evolution tires. I'm not sure what the effect of this would be when going for a tubeless set up with the performance line tires.
Manufacturer Specifications
Manufacturer Specs
Brand
Schwalbe
Model
Racing Ralph Performance
Year
2012
Supplied By
Bought in store
New or Used
Used
Mileage
3000 km
Price Range
Med
Buy At
Manufacturer part number
TPI
67
Compound
ORC
Bead
Folding
ETRTO
57-622
Size Inch
29"
Width Inch
2.25
Specified Weight
548 grams
Max Air Pressure (psi)
65
Made In
Members Only
Available Sizes
29x2.25
29x2.10
27.5x2.25
26x2.25
26x2.10
Schwalbe Racing Ralph Performance Test Results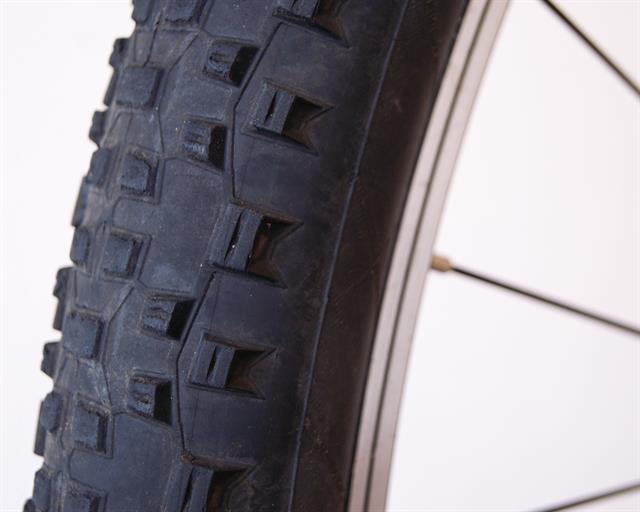 Size, Weight, and Thickness Measurements
Size, Weight, and Thickness Measurements
Specified Weight
548 grams
Measured Weight
548 grams
Measured Width Carcass
54 mm (un-round)
Measured Width Tread
54 mm
Measured Height
52 mm (un-round)
Measured Knob Height Center
1.3 mm
Measured Knob Height Edge
4.2 mm
Measured Total Thickness Center (excluding knobs)
No Data
Measured Total Thickness Sidewall
Not Tested
All size measurements are taken at an air pressure of 35 psi / 2.4 bars on a 17.8 mm inner width rim.
With a weight of 548 grams, the performance line isn't far off the evolution line Racing Ralph (534 grams). Size wise, it's very close as well with the performance being 1 mm smaller than the evolution
Rolling Resistance Test Results
Rolling Resistance Test Results
Inner Tube
Conti MTB 29 (225 gr butyl)
Rolling Resistance
55 PSI / 3.8 Bar
Members Only
Rolling Resistance
45 PSI / 3.1 Bar
Members Only
Rolling Resistance
35 PSI / 2.4 Bar
23.7 Watts
CRR: 0.00710
Rolling Resistance
25 PSI / 1.7 Bar
27.9 Watts
CRR: 0.00836
All numbers are for a single tire at a speed of 29 km/h / 18 mph and a load of 42.5 kg / 94 lbs.

Use the formula: RR (Watts) = CRR * speed (m/s) * load (N) to calculate rolling resistance at a given speed and load.
Because this is a 2.5 years old used tire with a half worn tread, making comparisons to a brand new tire is difficult. But looking at the numbers, rolling resistance is not bad at all. Almost matching the low rolling resistance of the evolution line at 55 psi / 3.8 bar and a 4 watts higher rolling resistance at 25 psi / 1.7 bar.
Puncture Resistance Test Results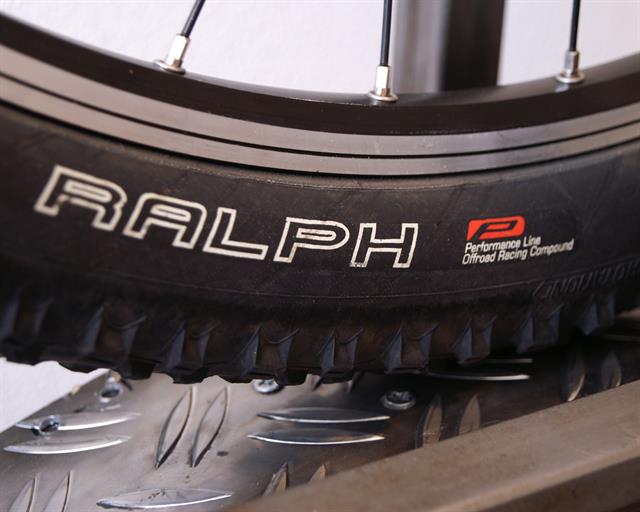 Puncture Resistance Test Results (higher is better)
Total Puncture Score Tread
No Data
Total Puncture Score Sidewall
Members Only
Tread Puncture Force Sharp Needle
10 Points
Tread Puncture Force Blunt Needle
No Data
Tread Total Tire Thickness
No Data
Sidewall Puncture Force Sharp Needle
Members Only
Sidewall Puncture Force Blunt Needle
No Data
Sidewall Total Tire Thickness
Members Only
Puncture resistance is much better with a score of 10 points vs a score of 7 points for the evolution line.
Hard Surface Static Grip Test Results
Static Grip Test Results
Wet Grip Average
No Data
Wet Grip Center
No Data
Wet Grip Edge
No Data
Measured Knob Height Center
1.3 mm
Measured Knob Height Edge
4.2 mm
Grip in points = coefficient of friction * 100
Wet Grip Test and Off-Road Tires (info)
Conclusion
At a high pressure of 55psi / 3.8 bar, the half worn Performance-line tire comes very close (0.2 watts) to the performance of the Schwalbe Evolution tire. This probably is because of the worn down central knobs. When lowering air pressure, rolling resistance starts increasing fast. At a pressure of 25 psi, the Performance line has 4 watts more rolling resistance when compared to the Racing Ralph Evolution. Rolling Resistance actually is not bad at all when you also account for the puncture resistance of both tires, The Performance line has 43% better puncture resistance. I wonder where this puts the Schwalbe Snake-Skin and Double Defence tires
This tire has the biggest spread between low and high pressures of all tires tested. Rolling resistance at 25 psi is 45% higher as compared to a pressure of 55 psi. Almost all other MTB tires have a spread of about 25%, even the Nobby Nic Performance only had a 27% spread but had very little wear. So what does this tell us? I don't dare to speculate. BUT, check back soon and often, because I'm going to monitor the performance of a Continental X-King/Race-King combo, with measurements every 1500 km.
RATING: 4.0 / 5
TEST VERDICT: Recommended
Comments