Panaracer R'Air Inner Tube Review
---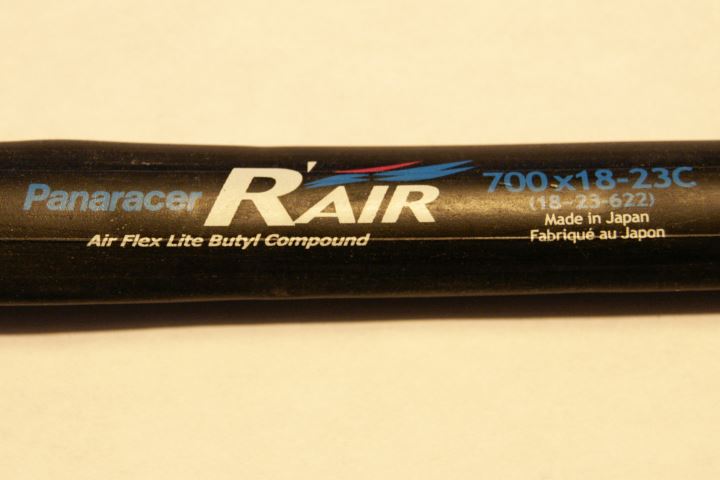 After the Schwalbe One Tubeless vs Clincher article where I compared road bike inner tubes, I got a message from Alban Lorenzini who told me that the Panaracer R'Air light butyl tube might have less rolling resistance than a latex tube. Alban ordered the inner tube and had it delivered to me. Take a look at his interesting blog: Alban Lorenzini Coaching Thank you, Alban!
Panaracer claims the R'Air range of inner tubes to give all the ride advantages of latex with all the functionality of butyl tubes. This is achieved by using a super flexible and leak-resistant butyl compound. Claimed weight is 67 grams, this fits the light butyl tube category (65-75 grams). Most standard road bike inner tubes have a weight of 100 grams.
Test set up
For this test I've used the same Schwalbe One clincher, I've used for the Schwalbe One Tubeless vs Clincher article. I retested the standard 100 grams Continental inner tube on the same day to make sure results would be consistent (results were within 0.3 watts). Results are purely the rolling resistance of the inner tubes and exclude the rolling resistance of the Schwalbe One.
Test conditions
Speed of 18 mph / 29 km/h
Total wheel load of 94 lbs/ 42.5 kg
Temperature between 21-23 °C / 70-73 °F
Inner Tubes
Panaracer R'Air: 70 grams 700x18-23C
Latex tube: 80 grams Michelin AirComp A1
Light tube: 70 grams Continental Race 28 Light
Standard tube: 100 grams Continental Race 28
Test Results
Total weight
While Panaracer claims this tube to have a weight of 67 grams, real measured weight is 70 grams.
Rolling Resistance
The Panaracer R'Air can't beat the latex tube in the rolling resistance test and is about equal to the Continental Race 28 Light which has the same weight and is also made of a butyl compound.
Panaracer
R'Air
Continental
Race 28
Light
Michelin
AirComp A1
Latex
Continental
Race 28
Inner Tube Weight
70 grams
70 grams
80 grams
100 grams
Rolling Resistance 120 psi / 8.3 Bar
2.3 Watts
2.3 Watts
1.6 Watts
3.1 Watts
Rolling Resistance 100 psi / 6.9 Bar
2.7 Watts
2.6 Watts
1.8 Watts
3.5 Watts
Rolling Resistance 80 psi / 5.5 Bar
3.3 Watts
3.1 Watts
2.3 Watts
4.2 Watts
Rolling Resistance 60 psi / 4.1 Bar
3.4 Watts
3.6 Watts
2.4 Watts
4.8 Watts
CRR 120 psi / 8.3 Bar
0.00069
0.00069
0.00048
0.00093
CRR 100 psi / 6.9 Bar
0.00081
0.00078
0.00054
0.00105
CRR 80 psi / 5.5 Bar
0.00099
0.00093
0.00069
0.00126
CRR 60 psi / 4.1 Bar
0.00102
0.00108
0.00072
0.00144
Conclusion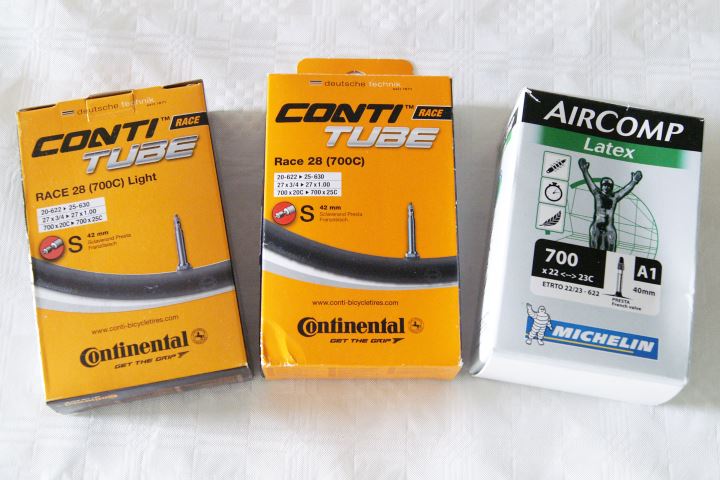 Unfortunately, the Panaracer does not meet the high expectations. Rolling resistance isn't lower than a Michelin latex tube and seems to be on par with the Continental Race 28 Light which has the same weight and is also made of a butyl compound. If you really want low rolling resistance, there is nothing that beats latex.
Because latex inner tubes are well known for the inability to hold air for long periods of time, I wanted to know how well the Panaracer kept its pressure. I inflated the tire to 100 psi and let it sit for 3 weeks. After 3 weeks, air pressure dropped to 69 psi. This means you still have to check air pressure and re-inflate every week. This is a bit less work than latex tubes which you have to check every day.
Comments