MTB Tire Test:

Schwalbe

Hans Dampf PaceStar
Schwalbe Hans Dampf PaceStar
---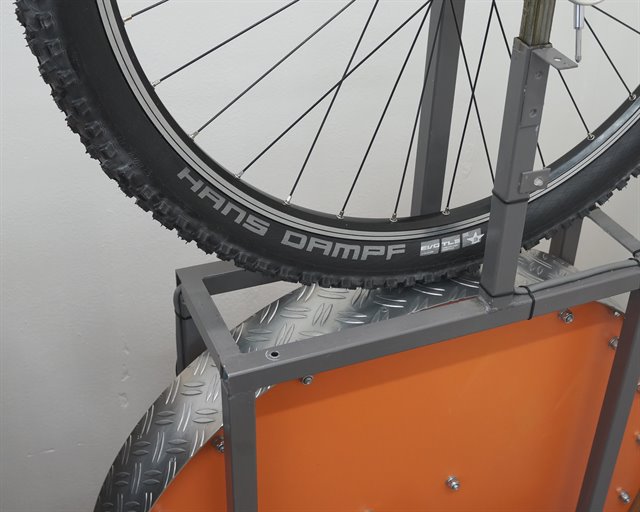 The Schwalbe Hans Dampf is a step up from the popular Schwalbe Nobby Nic concerning knob height and weight. I feel the Hans Dampf almost goes out of scope of the main subject this website is all about; most people looking at tires like the Hans Dampf are more interested in grip and durability than pure speed. The interesting thing about the Hans Dampf is that it's available with the PaceStar compound that's also used on the fast Schwalbe XC tires, but also with a grippier TrailStar compound.
Ad Buy Best Rated Bike Tires at Amazon.com
Choosing between the PaceStar compound and TrailStar compound can be tough when no hard data is available about the exact differences between these two compounds. When looking at Schwalbe's website, the speed rating of the PaceStar compound is 3.5 out of 6, and the speed rating of the TrailStar compound is 3.0 out of 6. When going by their ratings, you would assume the higher grip would come at the cost of just a little bit of extra rolling resistance.
I did not only test the PaceStar version of the Hans Dampf but the TrailStar version as well. You can find the Hans Dampf TrailStar review here: Hans Dampf TrailStar . You can also compare both these tires side by side on the comparison section: PaceStar Vs TrailStar. Check these articles if you're considering the TrailStar version as the difference between these compounds is immense.
advertisement
Manufacturer Specifications
Manufacturer Specs
Brand
Schwalbe
Model
Hans Dampf PaceStar
Year
2017
Supplied By
Bought in store
New or Used
New
Mileage
0 km
Price Range
High
Buy At
Manufacturer part number
11600362.02
TPI
67
Compound
PaceStar
Bead
Folding
ETRTO
60-622
Size Inch
29"
Width Inch
2.35
Specified Weight
850 grams
Max Pressure
50
Made In
Indonesia
Available Sizes
29x2.35
27.5x2.35
26x2.35
Schwalbe Hans Dampf PaceStar Test Results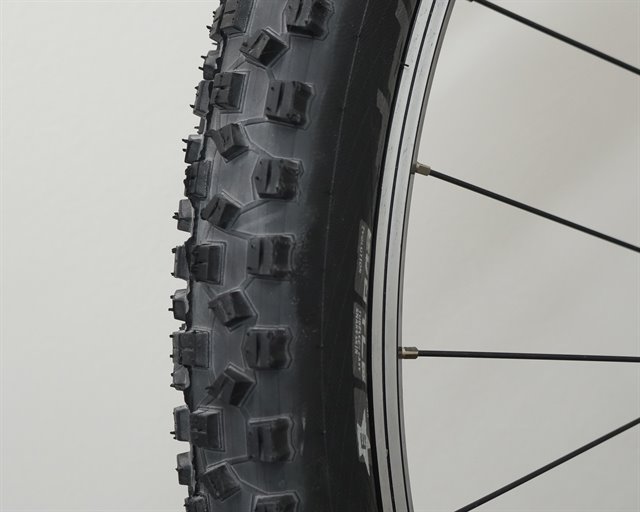 Size, Weight, and Thickness Measurements
advertisement
Size, Weight, and Thickness Measurements
Specified Weight
850 grams
Measured Weight
815 grams
Measured Width Carcass
56 mm
Measured Width Tread
60 mm
Measured Height
55 mm
Measured Knob Height Center
3.8 mm
Measured Knob Height Edge
5.8 mm
Measured Total Thickness Sidewall
0.80 mm
Measured Total Thickness Center (excluding knobs)
1.85 mm
All size measurements are taken at an air pressure of 35 psi / 2.4 bars on a 17.8 mm inner width rim.
The specified weight of the Hans Dampf PaceStar 29 x 2.35 is 850 grams; my sample comes in a good bit lower and has a weight of just 815 grams. On a 17C rim, at an air pressure of 35 psi / 2.4 bars, the maximum width of the casing is 56 mm, the knobs stick out a bit further resulting in a maximum tire width of 60 mm. The maximum height is 55 mm.
The tread pattern of the Hans Dampf is another step up from the Nobby Nic with center knobs that are just slightly higher and edge knobs that are much bigger (6.0 Vs 4.7 mm). The thickness of the sidewalls (0.80 mm) is pretty much the same as the Nobby Nic SnakeSkin which came in at 0.85 mm.
Rolling Resistance Test Results
Rolling Resistance Test Results
Inner Tube
Conti MTB 29 (225 gr butyl)
Rolling Resistance
55 PSI / 3.8 Bar
21.9Watts
CRR: 0.00656
Rolling Resistance
45 PSI / 3.1 Bar
22.4 Watts
CRR: 0.00671
Rolling Resistance
35 PSI / 2.4 Bar
23.7 Watts
CRR: 0.00710
Rolling Resistance
25 PSI / 1.7 Bar
27.1 Watts
CRR: 0.00812
All numbers are for a single tire at a speed of 29 km/h / 18 mph and a load of 42.5 kg / 94 lbs.

Use the formula: RR (Watts) = CRR * speed (m/s) * load (N) to calculate rolling resistance at a given speed and load.
Rolling resistance of the Hans Dampf with PaceStar compound is pretty much spot on to what I expected from a Schwalbe tire with this compound. Although the Hans Dampf is quite a knobby mountain bike tire, rolling resistance is still decent. When compared to the Nobby Nic (read review) that uses the same compound, rolling resistance of the Hans Dampf comes in just 8% higher. At the low air pressure of 25 psi / 1.7 bars, the Hans Dampf comes in at 27.1 watts as compared to the 25.0 watts of the Nobby Nic.
When we throw the Schwalbe Thunder Burt SnakeSkin into the comparison mix as well; It's pretty clear to me that the dominant force that determines the rolling resistance of a tire is the rubber compound. The Thunder Burt is a semi-slick tire with SnakeSkin sidewalls and the same PaceStar compound yet rolling resistance of the Thunder Burt is 22.3 watts @ 25 psi / 1.7 bars Vs the 27.1 watts of the Hans Dampf at the same air pressure.
Puncture Resistance Test Results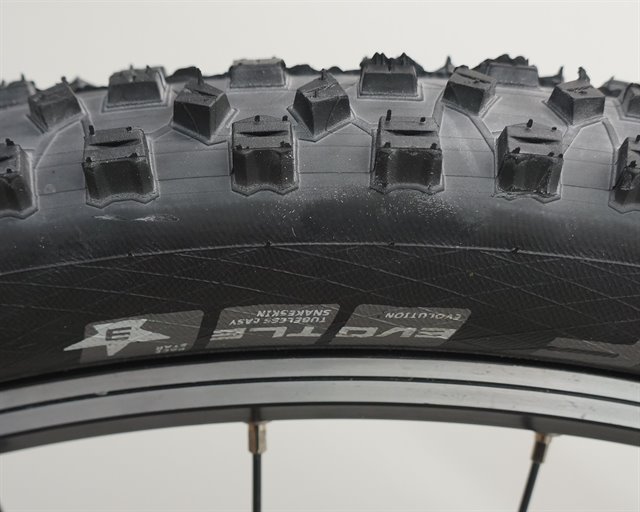 Puncture Resistance Test Result (higher is better)
Puncture Resistance Tread
7 Points
Puncture Resistance Sidewall
6 Points
In the puncture tests, the Hans Dampf with SnakeSkin sidewalls performs as expected and is pretty much spot on to the other tires with reinforced sidewalls.
Conclusion
Schwalbe Hans Dampf PaceStar
Performance compared to all other MTB tires
(100% is fastest - lightest - highest - strongest)
In a way, this was quite a boring test as the Hans Dampf performed exactly as I expected from a Schwalbe tire with PaceStar compound. If you're looking for a fast tire with large knobs, look no further and grab the Hans Dampf PaceStar. If you're interested in a comparison between the PaceStar and TrailStar compounds, definitely read the review of the Hans Dampf TrailStar here: Hans Dampf TrailStar or look at the comparison page here: PaceStar Vs TrailStar. Be aware that the difference between these compounds is HUGE.
On a steel drum which simulates a hard road surface, the differences between small and large knobs are much smaller than I would have thought before I started doing these tests. In real-life, when running on less perfect and softer surfaces, the differences between bigger and smaller knobs will probably be much more noticeable. Choosing the right tire for the right surface is still critical.
Ad Buy Best Rated Bike Tires at Amazon.com
RATING: 5 / 5
TEST VERDICT: Recommended
Comments