MTB Tire Test:

Schwalbe

Nobby Nic Performance
---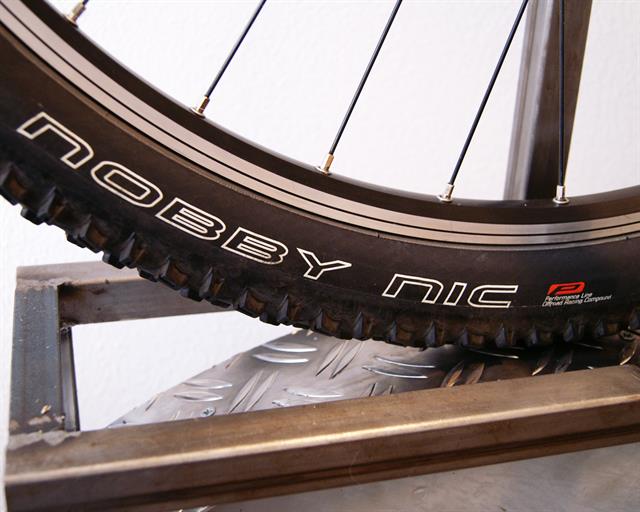 This is the first used mountain bike tire I'm reviewing, it was used as a front tire for 3000 km. Wear of the central knobs is 0.3-0.5 mm, wear of the shoulder knobs is pretty much zero. This is mostly because it was used only on Dutch trails, which are very easy on tires (we have no rocks). These tires were donated to me by an MTB buddy. He upgraded from a Nobby Nic/Racing Ralph combo to a tubeless Rocket Ron/Thunder Burt Evolution set up. He had to do this because he couldn't keep up with me anymore after I upgraded my rear tire to a tubeless Race King RaceSport.
The 2012 model year Nobby Nic Performance was a single compound tire, this compound was called ORC (Off-road Racing Compound). Starting with the 2013 model year tires, Schwalbe started using a dual compound on the Performance line tires. I'm looking forward to testing a new Performance line Schwalbe sometime soon. Just like the Racing Ralph Performance, this Nobby Nic was very easy to mount as well. it's very easy to get the bead over the rim walls, the Evolution line beads definitely are much tighter.
Manufacturer Specifications
Manufacturer Specs
Brand
Schwalbe
Model
Nobby Nic Performance
Year
2012
Supplied By
Bought in store
New or Used
Used
Mileage
3000 km
Price Range
Med
Buy At
Manufacturer part number
TPI
67
Compound
ORC
Bead
Folding
ETRTO
57-622
Size Inch
29"
Width Inch
2.25
Specified Weight
600 grams
Max Air Pressure (psi)
65
Made In
Members Only
Available Sizes
29x2.35
29x2.25
27.5x2.35
27.5x2.25
26x2.35
26x2.25
26x2.10
Schwalbe Nobby Nic Performance Test Results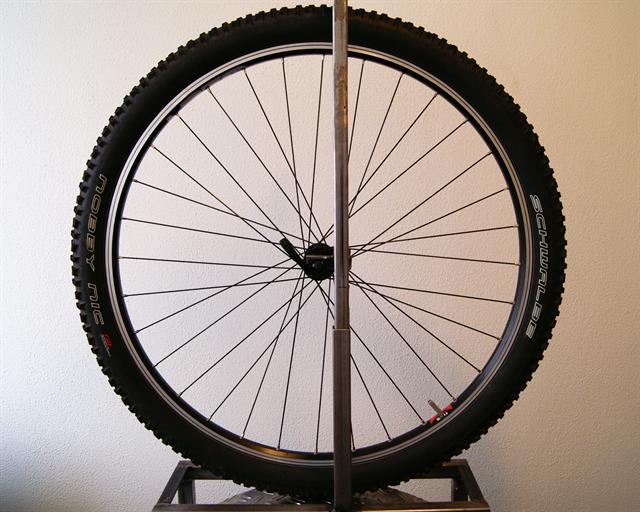 Size, Weight, and Thickness Measurements
Size, Weight, and Thickness Measurements
Specified Weight
600 grams
Measured Weight
605 grams
Measured Width Carcass
54 mm (un-round)
Measured Width Tread
55 mm
Measured Height
54 mm (un-round)
Measured Knob Height Center
3.2 mm
Measured Knob Height Edge
5.0 mm
Measured Total Thickness Center (excluding knobs)
No Data
Measured Total Thickness Sidewall
Not Tested
All size measurements are taken at an air pressure of 35 psi / 2.4 bars on a 17.8 mm inner width rim.
Because this is a used tire, some measurements will be off when compared to a new tire. The measured weight is 605 grams, I'm not sure what the original specified weight of the ORC Nobby nic was, but 605 grams isn't bad. The size of the carcass is very close to the size a 2.25 sized tire should have. Height of the center knobs is 3,2 mm. I think this should be 3,5 - 4 mm for a brand new Nobby Nic. Knob height at the edge of the tire is 5 mm.
Rolling Resistance Test Results
Rolling Resistance Test Results
Inner Tube
Conti MTB 29 (225 gr butyl)
Rolling Resistance
55 PSI / 3.8 Bar
Members Only
Rolling Resistance
45 PSI / 3.1 Bar
Members Only
Rolling Resistance
35 PSI / 2.4 Bar
27.2 Watts
CRR: 0.00815
Rolling Resistance
25 PSI / 1.7 Bar
30.8 Watts
CRR: 0.00923
All numbers are for a single tire at a speed of 29 km/h / 18 mph and a load of 42.5 kg / 94 lbs.

Use the formula: RR (Watts) = CRR * speed (m/s) * load (N) to calculate rolling resistance at a given speed and load.
Although this is a used tire and wear is very low, the rubber did age for 2.5 years so take this into account. Rolling resistance is not bad at all for a tire with big knobs, the Nobby Nic even beats the top of the line Maxxis Ikon 3C MaxxSpeed, which has much smaller knobs. Rolling Resistance is 3 - 5 watts higher than a Racing Ralph Performance of the same age and mileage.
Puncture Resistance Test Results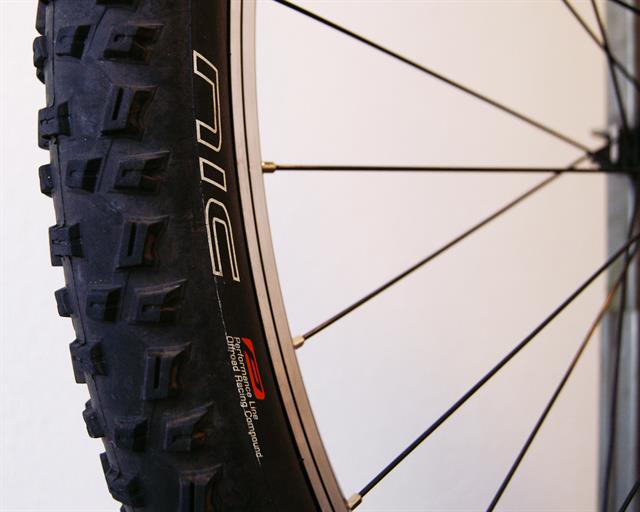 Puncture Resistance Test Results (higher is better)
Total Puncture Score Tread
No Data
Total Puncture Score Sidewall
Members Only
Tread Puncture Force Sharp Needle
12 Points
Tread Puncture Force Blunt Needle
No Data
Tread Total Tire Thickness
No Data
Sidewall Puncture Force Sharp Needle
Members Only
Sidewall Puncture Force Blunt Needle
No Data
Sidewall Total Tire Thickness
Members Only
Puncture resistance is very good, with a score of 12, it's the most puncture resistant tire tested to date.
Hard Surface Static Grip Test Results
Static Grip Test Results
Wet Grip Average
No Data
Wet Grip Center
No Data
Wet Grip Edge
No Data
Measured Knob Height Center
3.2 mm
Measured Knob Height Edge
5.0 mm
Grip in points = coefficient of friction * 100
Wet Grip Test and Off-Road Tires (info)
Conclusion
Considering it's medium price range and big knobs I think performance is decent, especially when you factor in that this tire has been used for 2.5 years. I believe tires get slower as they age because of the hardening of the rubber compound. After only 2.5 years, this effect might be quite small. Unfortunately, this is an experiment that can not be done in a day. Puncture resistance is very good, much better than the other tires.
I think this tire proves that tread pattern doesn't completely determine the rolling resistance of mountain bike tires. The Nobby Nic, with its coarse tread pattern, has less rolling resistance than a Maxxis Ikon MaxxSpeed, which is a tire with much smaller and lower knobs.
RATING: 4.0 / 5
TEST VERDICT: Recommended
Comments