MTB Tire Test:

Vittoria

Mezcal
---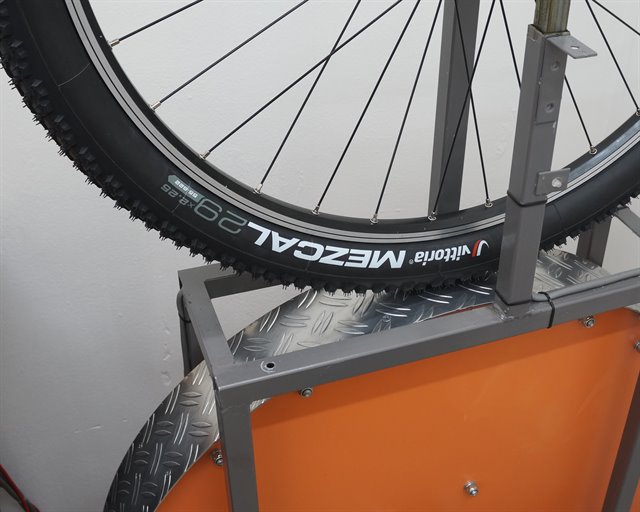 After the disappointing test of the Vittoria AKA (read review), a lot of people asked me if I could test another Vittoria MTB tire to see if the AKA was just an outlier. Soon after the AKA test, Vittoria announced the new G+ MTB tires which have a new upgraded Graphene (G+) compound that they also use on their road bike tires. The Vittoria road bike tires that use the G+ compound perform great on the rolling resistance tests; this should be great news for their MTB tires as well.
EDIT 2017-02-10: After publishing this review, I got a message from Vittoria telling me the non-TNT version of the new 2017 Mezcal does not use the 4C G+ compound. Only the TNT version which comes with reinforced sidewalls uses this new compound. At the moment of this writing, this isn't clearly stated on their website. Let's hope their website gets updates quickly to make it clearer the regular folding version does not use the G+ compound. My recommendation is to only buy the TNT G+ version as it's a much faster and stronger tire and both tires are priced the same. Read my review of the Mezcal TNT G+ here: (Mezcal TNT G+)
The 2017 Vittoria Mezcal is one of the tires in the MTB lineup that Vittoria upgraded with the G+ compound. After looking at all the other specs of the old Mezcal and new Mezcal, the only thing that appears to have changed is the compound and tread pattern. Let's just run the tests and find out if the new Vittoria Mezcal can catch Schwalbe and Continental with their new MTB tires.
I'm testing the lightest 29 x 2.25 folding version of the new Mezcal. A reinforced folding version (TNT) (with 4C G+ compound), and cheaper rigid version are available as well.
Manufacturer Specifications
Manufacturer Specs
Brand
Vittoria
Model
Mezcal
Year
2017
Supplied By
Bought in store
New or Used
New
Mileage
0 km
Price Range
High
Buy At
Manufacturer part number
111.3M3.19.55.111HD
TPI
120
Compound
4C G+
Bead
Folding
ETRTO
55-622
Size Inch
29"
Width Inch
2.25
Specified Weight
690 grams
Max Pressure
58
Made In
Members Only
Available Sizes
29x2.25
29x2.10
27.5x2.25
27.5x2.10
Vittoria Mezcal Test Results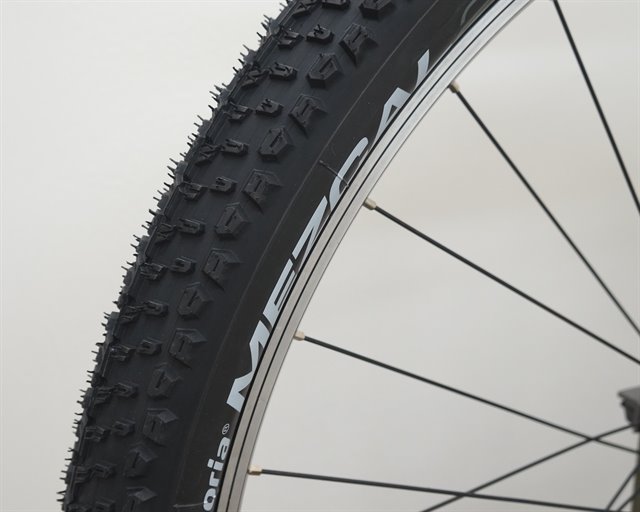 Size, Weight, and Thickness Measurements
advertisement
Size, Weight, and Thickness Measurements
Specified Weight
690 grams
Measured Weight
681 grams
Measured Width Carcass
54 mm (un-round)
Measured Width Tread
54 mm
Measured Height
54 mm (un-round)
Measured Knob Height Center
2.9 mm
Measured Knob Height Edge
4.3 mm
Measured Total Thickness Center (excluding knobs)
2.40 mm
Measured Total Thickness Sidewall
Members Only
All size measurements are taken at an air pressure of 35 psi / 2.4 bars on a 17.8 mm inner width rim.
The specified weight of the non-reinforced 29x2.25 folding Mezcal is 690 grams; my sample came in slightly lighter at 681 grams. The measured width of the casing at an air pressure of 35 psi / 2.4 bars, on a 17C rim, comes in at 54 mm. The measured height is 54 mm as well.
Knob height at the center of the tire comes in at 2.9 mm. The knobs at the edge of the tire have a height of 4.3 mm. Just like the AKA, the Mezcal has a very thick tread thickness of 2.4 mm (excluding the knobs). When the knobs are fully worn off these tires, you could run them for a long time as slick tires as there will be plenty of rubber left on the casing. Almost all other MTB tires I've had in my hands have a thickness of 1.4 - 1.8 mm. Vittoria could quite easily make these tires lighter and faster by putting a bit less rubber on them.
Rolling Resistance Test Results
Rolling Resistance Test Results
Inner Tube
Conti MTB 29 (225 gr butyl)
Rolling Resistance
55 PSI / 3.8 Bar
Members Only
Rolling Resistance
45 PSI / 3.1 Bar
Members Only
Rolling Resistance
35 PSI / 2.4 Bar
28.4 Watts
CRR: 0.00851
Rolling Resistance
25 PSI / 1.7 Bar
30.9 Watts
CRR: 0.00926
All numbers are for a single tire at a speed of 29 km/h / 18 mph and a load of 42.5 kg / 94 lbs.

Use the formula: RR (Watts) = CRR * speed (m/s) * load (N) to calculate rolling resistance at a given speed and load.
The new version of the Mezcal seems to be doing its job as rolling resistance of the new Mezcal is much lower than the older Vittoria AKA (read review). Across the entire air pressure range, rolling resistance of the Mezcal is close to 10 watts lower. At the most important air pressure of 25 psi / 1.7 bars, rolling resistance of the Mezcal comes in at 30.9 watts which is much lower than the 40.7 watts of the AKA.
Unfortunately, and although Vittoria closed the gap considerably, rolling resistance still comes in higher than the best performing tires from Schwalbe and Continental. When we compare the Mezcal with the Schwalbe Racing Ralph (read review), you're still losing close to 7 watts per tire at 25 psi / 1.7 bars. All in all, I think the Mezcal is a vast improvement over the older generation AKA. 7 watts will be hard to notice and might very well be made up by better grip or wear.
Puncture Resistance Test Results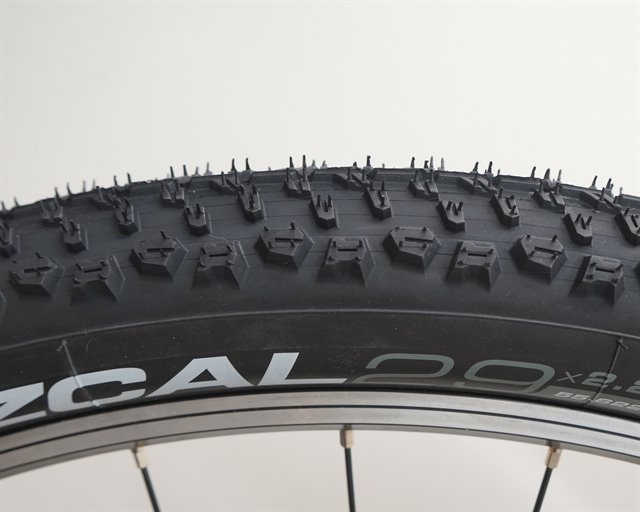 Puncture Resistance Test Result (higher is better)
Puncture Resistance Tread
9 Points
Puncture Resistance Sidewall
Members Only
In the puncture resistance tests, the performance of the Mezcal is excellent. With a score of 9 points in the tread puncture test, it outperforms the faster tires from the competition by 2 points. Compared to the AKA, puncture resistance has gone down by 3 points. In the sidewall puncture test, the Mezcal scores a very average 5 points and seems to be in line with most other non-reinforced tires.
Conclusion
The 2017 Mezcal is a much faster tire than the older generation AKA (read review). Even though the Mezcal has bigger knobs, rolling resistance has gone down by close to 25% when compared to the AKA. Compared to the fastest tires from the competition, the Mezcal is still a bit slower, but Vittoria closed the gap considerably. In my opinion, the Vittoria AKA was a definite no-go, the Mezcal is now a tire worth considering as better grip and durability could make up for the slightly higher rolling resistance.
Although the regular folding Mezcal isn't a bad tire, I highly recommend the TNT version of the new Mezcal as that tire comes with reinforced sidewalls and the new 4C G+ compound. Even though the TNT version is slightly heavier and comes with reinforced sidewalls, rolling resistance is much lower. Read my review of the Mezcal TNT G+ here: (Mezcal TNT G+)
RATING: 3 / 5
TEST VERDICT: Recommended
Comments