Road Bike Tire Test:

Veloflex

Corsa
---
---
---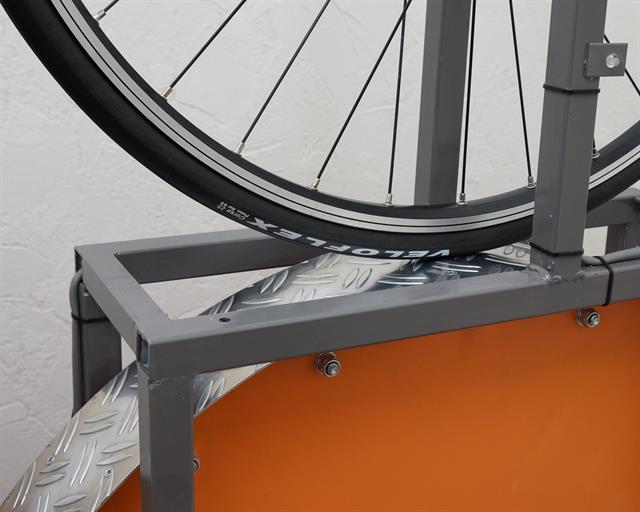 NOTE: We have a test available of a newer version of this tire: Veloflex Corsa Race (clincher) 2021
The Veloflex Corsa is an open tubular style tire with a cotton casing and glued on tread just like the popular Vittoria Open Corsa. This is a review of the 25 mm version of the Corsa, a 23 mm version is available as well. The Veloflex Corsa comes with a black casing which is a bit different from most other cotton tires. If you prefer skin colored sidewalls, the Veloflex Master is available as well which is essentially the same tire except for the color of the casing.
Ad Buy Veloflex Corsa at Amazon.com
Veloflex is a small manufacturer from Italy that is specialized in hand made, high-end road bike tires. They are mostly known for their tubular tires but make some clinchers as well. The Veloflex Corsa/Master tires are most comparable to the Vittoria Open Corsa (read review) or Grand Prix 4000S II (read review) kind of tires as these come with an anti-puncture belt and can be seen as all-round tires.
The other clincher tire from Veloflex is the Record. The Record has an even lighter casing, thinner tread, and doesn't come with an anti-puncture belt. For everyone that is looking for data on the Veloflex Record 22-622 clincher tire: I've tested it (only RR, no puncture) and it comes in at 9.9 watts @ 120 psi / 8.3 bars and 10.6 watts at 100 psi / 6.9 bars.
Manufacturer Specifications
Manufacturer Specifications
Brand
Veloflex
Model
Corsa
Year
2016
Tire Type
Tubetype (clincher)
Supplied By
Bought in store
New or Used
New
Mileage
0 km
Price Range
High
Buy At

Ad

Amazon.com
Manufacturer part number
EAN
8033959671115
TPI
320
Compound
Natural exclusive
Bead
Folding
ETRTO
25-622
Size Inch
28"
Specified Width (mm)
25
Specified Weight
205 grams
Max Air Pressure (psi)
130
Made In
Members Only
Available Sizes
23-622 (700x23C)
25-622 (700x25C)
Veloflex Corsa Test Results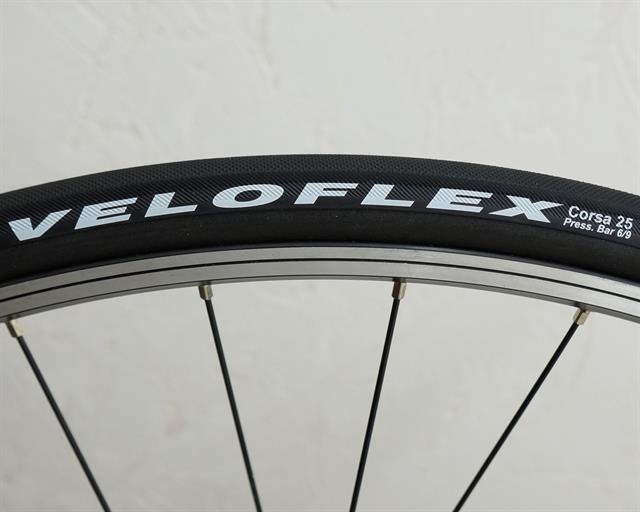 Size, Weight, and Thickness Measurements
advertisement
Size, Weight and Thickness Measurements
Specified Weight
205 grams
Measured Weight
200 grams
System Adjusted Weight
(tire + inner tube (100 gr)
300 grams
Measured Width
25 mm (un-round)
Measured Height
22 mm (un-round)
Total Tire Thickness Center
2.1 mm
Total Tire Thickness Sidewall
Members Only
Unmounted Casing Width
No Data
Unmounted Tread Width
No Data
All size measurements are taken at an air pressure of 100 psi / 6.9 bars on a 17.8 mm inner width rim.
Specified weight of the 25-622 Corsa is 205 grams, my sample came in at 200 grams which is a really nice weight. The measured width at an air pressure of 100 psi / 6.9 bars, on a 17C rim is 25 mm. Total height is 22 mm. Compared to most other 25-622 road bike tires, the Corsa is quite a small tire. Most 23-622 rated tires are just as big as the Corsa 25.
The total thickness of the tire at the center of the tread comes in at 2.1 mm. 2.1 mm is quite thin as the Vittoria Open Corsa G+ comes in at 2.4 mm and other comparable tires like the Conti GP4000SII (read review) , Schwalbe One (read review), and Michelin Power Competition (read review) come in closer to 3 mm. I'm pretty sure this tire won't last as long as those tires. The average thickness of the sidewall is 0.75 mm. It must be added that the thickness of the sidewall is 1 mm near the bottom of the sidewall and 0.5 mm near the top.
Rolling Resistance Test Results
Rolling Resistance Test Results
Inner Tube
Conti Race28 (100gr butyl)
Rolling Resistance
140 PSI / 9.7 Bar
Not Tested
Rolling Resistance
120 PSI / 8.3 Bar
13.4 Watts
CRR: 0.00402
Rolling Resistance
100 PSI / 6.9 Bar
14.0 Watts
CRR: 0.00420
Rolling Resistance
80 PSI / 5.5 Bar
Members Only
Rolling Resistance
60 PSI / 4.1 Bar
Members Only
All numbers are for a single tire at a speed of 29 km/h / 18 mph and a load of 42.5 kg / 94 lbs.

Use the formula: RR (Watts) = CRR * speed (m/s) * load (N) to calculate rolling resistance at a given speed and load.
Rolling resistance of the Veloflex Corsa isn't spectacularly low for a high-end tire, but definitely not bad either. With a rolling resistance of 13.4 watts at an air pressure of 120 psi / 8.3 bars, the Corsa does get outperformed by most high-end all-round tires from other manufacturers by 1 to 2.5 watts per tire. If you're looking at cotton tires only, the Vittoria Corsa G+ (read review) and Specialized Turbo Cotton (read review) seem to be the better performing tires.
Although the Corsa is a bit smaller than most other 25 mm road bike tires I've tested (which results in a small disadvantage in the rolling resistance test of ~0.3 watts at 120 psi / 8.3 bars), I must say I expected a bit more from such a light and thin tire from Veloflex. I know the Record is much faster at 9.9 watts @ 120 psi / 8.3 bars, but that tire has even less tread thickness at 1.5 mm max total tire thickness.
Puncture Resistance Test Results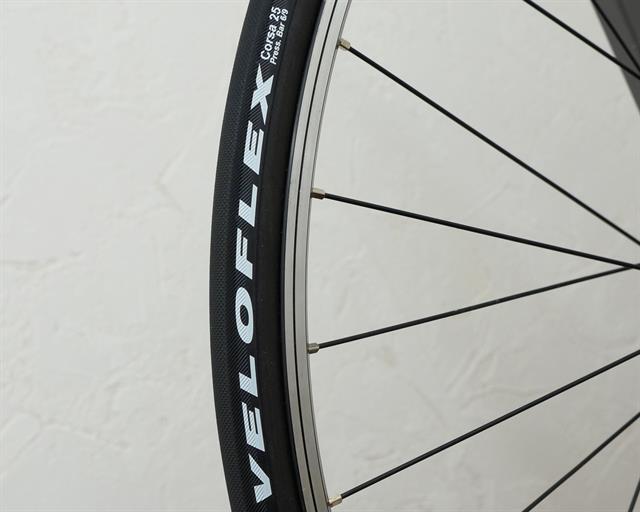 Puncture Resistance Test Results (higher is better)
Total Puncture Score Tread
51 Points
Total Puncture Score Sidewall
Members Only
Tread Puncture Force Sharp Needle
12 Points
Tread Puncture Force Blunt Needle
No Data
Tread Total Tire Thickness
2.1 mm
Sidewall Puncture Force Sharp Needle
Members Only
Sidewall Puncture Force Blunt Needle
No Data
Sidewall Total Tire Thickness
Members Only
In the tread puncture resistance test, the Veloflex Corsa performs surprisingly well for such a thin tire. With a score of 12 points, it outperforms the Vittoria Corsa G+ and GP4000S II by 1 point. It looks like the Veloflex anti-puncture belt works well to stop a 1 mm steel needle from penetrating the tire.
When puncturing the sidewall, the Veloflex performs average. Most other high TPI, high-end tires seem to come in at 4 to 5 points in this test.
Static Grip Test Results
NOTE: Grip test data is only available on tires tested after November 2018. You can find more information about our grip test here: Introducing Grip Testing
Static Grip Test Results
Wet Grip Average
No Data
Wet Grip Center
No Data
Wet Grip Edge
No Data
Grip in points = coefficient of friction * 100
Conclusion
Rolling resistance of the Veloflex Corsa is a bit on the high side for an expensive hand made tire. Another disadvantage is the low tire thickness of just 2.1 mm which indicates there isn't all that much rubber to wear down. The pros are these tires come with a cotton casing, have a low weight, and still perform quite strong in the puncture resistance tests. If these tires fit your needs, I don't see a reason to avoid them.
I do feel the Vittoria Corsa G+ (read review) tires are the better tires if you're looking for some cotton tires. Unfortunately, I can't comment on grip or wear between these tires as that could make a big difference as well. Please leave a comment and let me know if you like the Veloflex tires as I'm really curious about your opinion.
Ad Buy Veloflex Corsa at Amazon.com
RATING: 4.0 / 5
TEST VERDICT: Recommended
Comments